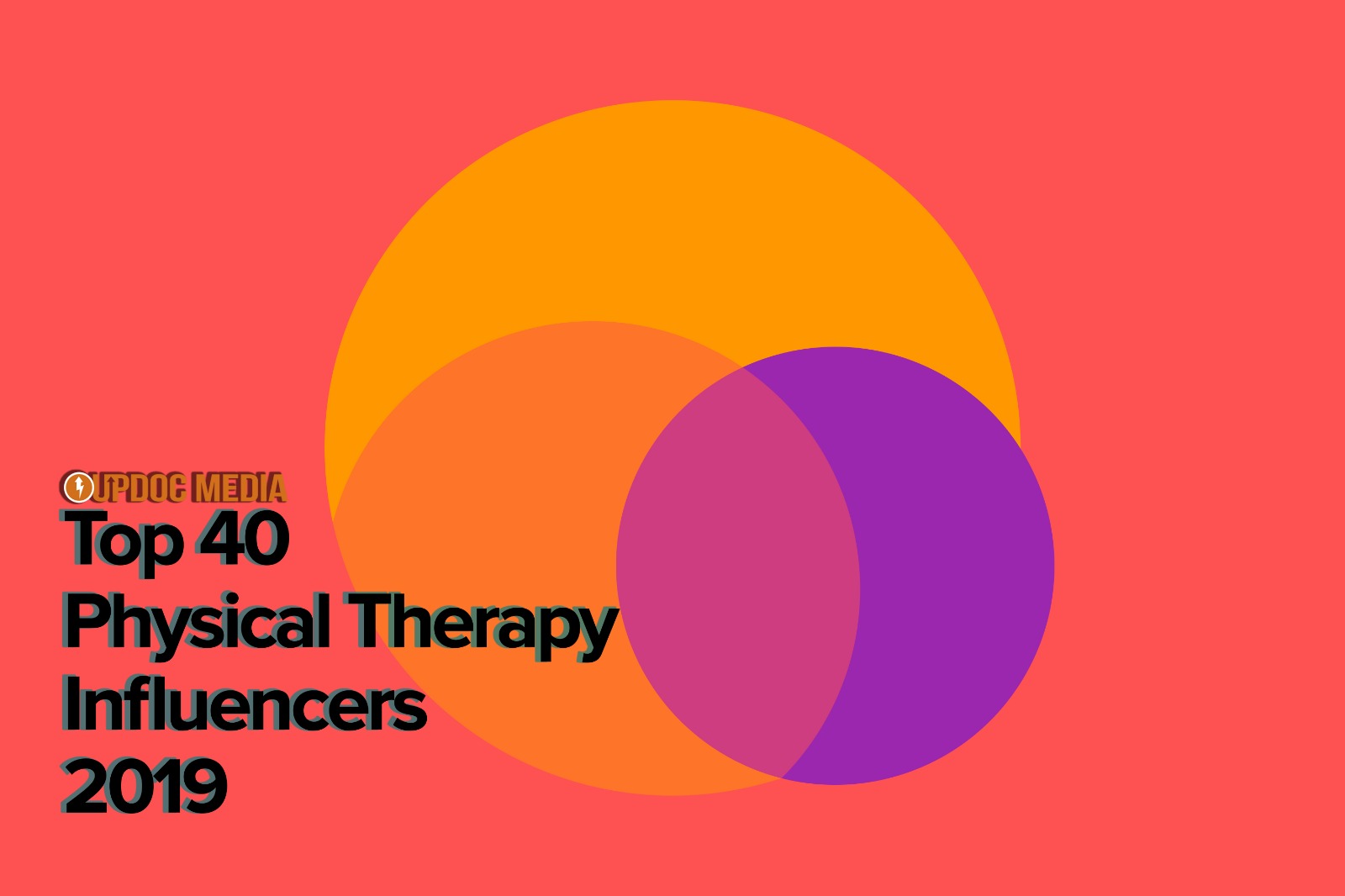 Top 40 Physical Therapy Influencers of 2019
We are pleased to reveal this year's Top 40 Physical Therapy Influencers list. We had an incredible amount of votes with many great nominations, new and old. The influencer list is a combination of votes, an UpDoc industry audit, and yearly contributions to the profession. As always, this list comes in no particular order or ranking — just the recognition of those who have meaningfully impacted the profession.
For this year's release, we are highlighting one influential individual or brand from each category. If you are interested, we have expanded descriptions for past years winners — you can find the 2016 Top 40 list [HERE], the 2017 Top 40 list [HERE], and the 2018 Top 40 list [HERE].
Clinical
Julie Wiebe: Expanding the pelvic health horizons. In 2019, Julie continued to be in high demand to teach her courses. She also launched more digital offerings, broadened women's health information to mainstream publications, and further integrated pelvic health into sports.
Business
Brian Gallagher: Physical therapists need better understanding of business. It's been a rallying cry for years. Brian is no stranger to business. This year he and his team made significant strides to bring high-quality business education through their education platform-MEG.
Fitness
Kelly Starrett: The supple leopard made big changes in 2019. Known for his MobilityWOD brand, Kelly and his team rebranded to The Ready State. The rebrand is more than a name change. Kelly is leveraging his physical therapist training to connect to mass audiences in order to help usher in a complete health perspective.
Media
Trust Me, I'm A Physiotherapist
Level Up Initiative: How do we help more people? Let's start by educating more people on understanding how physical therapists can help. Level Up Initiative added more members, and continues to push forward to help physical therapists better connect with a wider audience.
Academics and Research
Rich Severin: Dr. Severin is a physical therapist and ABPTS certified cardiovascular and pulmonary specialist. This year, he participated in the well publicized Oxford Debates at the APTA NEXT conference; and, has been faithfully serving as a discussion moderator for active groups across several social media outlets.
New & Noteworthy
Josh Funk: Dr. Josh Funk is our rising star pick for 2019. His company Rehab2Perform is opening up a 4th location and continues to show immense growth AND impact.
---
Thanks to all who participated in the nomination process and congrats again to all the winners. Please keep your eyes out for a 2020 New Year's release of the Job Market Pulse UpDate!
Have a Happy New Year and an incredible 2020s Decade!
Sincerely Yours,
—The UpDoc Team