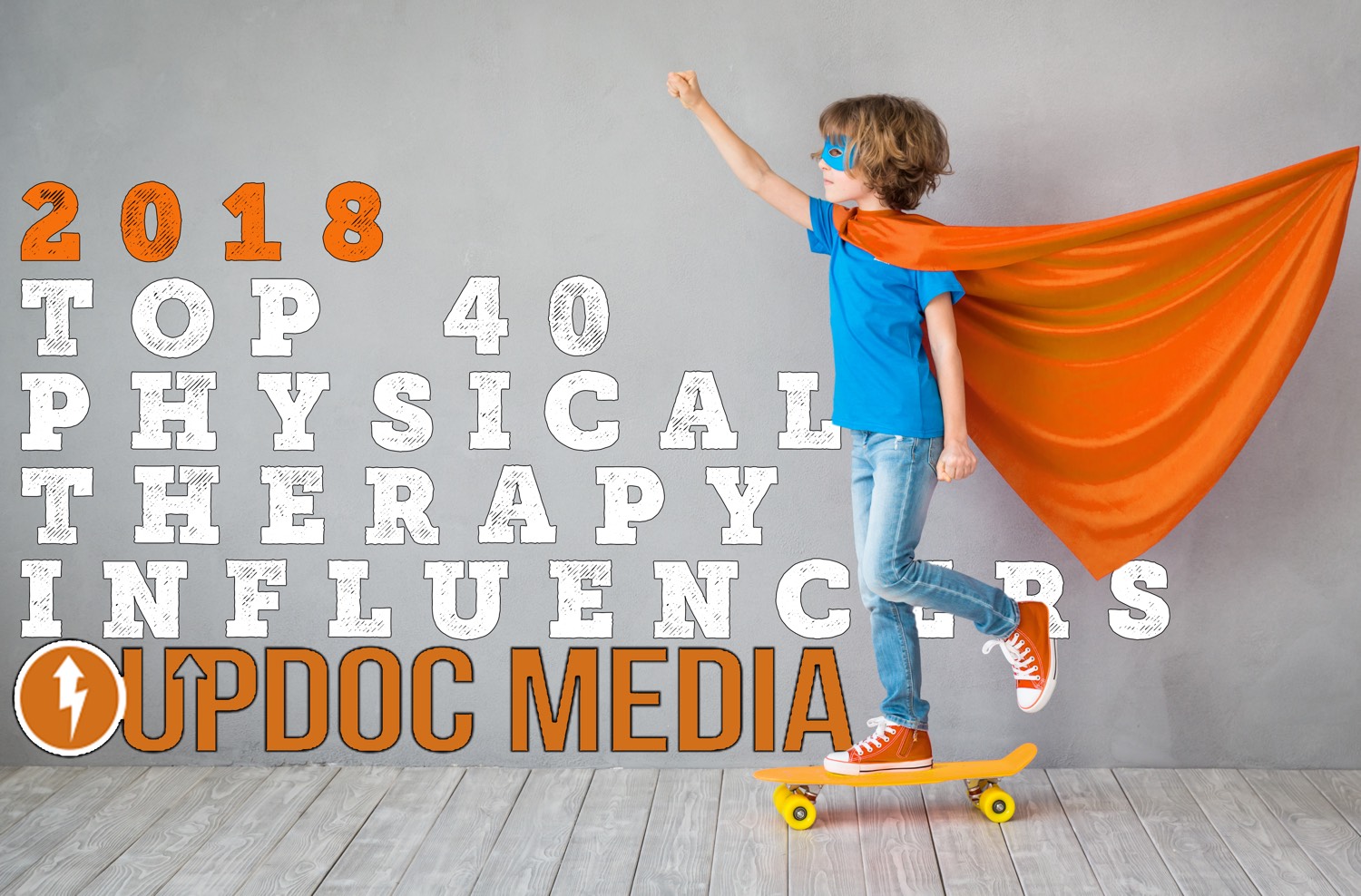 The team at UpDoc Media is pleased to release our Top 40 Influencers of 2018. Just in case you are new to this tradition: Every year, we take nominations on top influencers in our industry which has increasingly expanded beyond the clinical base of physical therapy and healthcare. As a result, we've expanded the scope of finalists and created a New & Noteworthy section to help promote those individuals and brands creating waves throughout the year. If interested, you can revisit 2017's Top 40 as well as 2016's influencers list.
As always, our annual influencers list comes in no particular rank or order; and, those named, nominated, and ultimately selected as finalists are done through a combination of nomination as votes as well as through the lens of industry influence beyond popular social following.
With all that said, we are pleased to unveil your…!
---
Top 40 Physical Therapy Influencers of 2018
---
Clinical
Tracy Sher
In 2018 Tracy launched new pelvic health-focused online training and continued to expand her influence. She is a leading resource for pelvic health physical therapy. Tracy Sher, MPT, CSCS, Owner and Clinical Director of Sher Pelvic Health, is an orthopedic and pelvic physical therapist, faculty member, consultant, international speaker, founder of Pelvic Guru and a leading authority in the field. Since 2000, she has successfully started or helped expand hospital-based women's health/pelvic physical therapy programs.
Institute of Clinical Excellence (ICE)
In 2018, ICE launched and expanded their growing offering portfolio to all reaches of physical therapy. You can take online and in-person courses from ICE in a multitude of physical therapy and beyond specialties. The Institute of Clinical Excellence (ICE) was created in 2012 by Dr. Jeff Moore. Out of a need to provide high-quality, evidence-based, educational experiences, Dr. Moore has built a team of highly skilled, expert clinicians in several different areas of clinical practice. Their mission is to create Physical Therapist 2.0 with a belief that the key to achieving our mission is to promote proficiency in foundational areas along with specialized knowledge and skill in domains where clinicians are highly passionate.
Lorimer Moseley
Pr. Moseley continued his teachings on pain science with relevant and approachable implementation. As pain science continues to permeate through physical therapy, Pr. Moseley remains the authority and go-to reference. Professor Lorimer Moseley is a clinical scientist investigating pain in humans. After posts at The University of Oxford, UK, and the University of Sydney, Lorimer was appointed Foundation Professor of Neuroscience and Chair in Physiotherapy, The Sansom Institute for Health Research at the University of South Australia. He is also Senior Principal Research Fellow at NeuRA and an NHMRC Principal Research Fellow. Pr. Moseley is also well known for BodyinMind.org, and leads the group "in undertaking research that traverses 'the translational pipeline' from fundamental behavioural and physiological experiments in humans, to major randomised controlled trials and prognostic studies."
Greg Lehman
In 2018, Greg continued to be an outspoken voice for approaching pain and musculoskeletal issues with a focus on understanding research and the lens of bias in which it is interpreted. Greg Lehman is a physiotherapist, chiropractor and strength and conditioning specialist treating musculoskeletal disorders within a biopsychosocial model. As one of the most popular continuing education course instructors, Dr. Lehman teaches worldwide to health and fitness professionals; reconciling Biomechanics with Pain Science and Running Resiliency.
Roger Kerry
Pr. Kerry expanded his reach in the U.S with widely cited research and approach to physical therapy. An Associate Professor at The University of Nottingham; Physiotherapist; Philosopher of Science-in-training — Roger Kerry is an established clinical researcher in our field. His manual therapy interests are in complex cervico-cranial dysfunction, clinical reasoning and differential diagnosis of vascular pathologies. His Ph.D. is in Philosophy; inquiring into issues of whether or not evidence-based medicine works. Professor Kerry also has teaching interests in the use of social media in learning.
Erson Religioso
2018 saw more expansion for "Dr.E" with podcasts, products, and courses.
Dr. Erson Religioso III, DPT, MS, MTC, CertMDT, CFC, FMS, FMT, FAAOMPT, is a fellowship trained cash based PT practice owner, entrepreneur, blogger, and sought after lecturer in the topic of Modern Manual Therapy. He has a #CashPT Practice in the Buffalo, NY area, EDGE Rehab and Sports Science, where he specializes in TMD, headaches, spinal care, runners, gymnasts, and chronic pain. His focus is seeing the patient as little as possible, and empowering them with education, self assessment and treatment strategies.Dr. Religioso is adjunct faculty of SUNY at Buffalo, where he teaches orthopaedic manual physical therapy in the DPT program. He also developed a line of manual therapy, mobility, fitness, strength, and rehab products along with pain science education materials at The EDGE Mobility System.Modern Manual Therapy – The Eclectic Approach is Dr. Religioso's line of seminars for clinicians that are taught online and in live venues around the world. The Eclectic Approach started with Modern Manual Therapy, and has expanded to include Modern Strength Training, and Modern Patient Education.Dr. E is now offering his services as both an online clinical mentor to clinicians at Modern Rehab Mastery, travelling OMPT Fellowship mentor, online patient consultations, and online business and social media consultation, #CashPT start up with LeBauer Consulting. He also is part of media company, UpDoc Media, with 2 podcasts, Therapy Insiders and Untold Physio Stories.
Sue Falsone
In 2018, Sue released her book Bridging the Gap from Rehab to Performance and continued to influence thousands of clinicians with her popular continuing education courses. Sue Falsone is a Board Certified Clinical Specialist in Sports Physical Therapy (SCS), a certified athletic trainer (ATC), certified orthopedic manual therapist for the spine (COMT) and a certified strength and conditioning specialist (CSCS) through the National Strength and Conditioning Association. A veteran speaker, she has presented at state, national and international level conferences in areas focusing on pillar strength, integration of physical therapy and performance training, and comprehensive kinetic chain assessment and rehabilitation. Her experience is extensive with highlights with the Los Angeles Dodgers for 6 years, last serving as head athletic trainer and physical therapist; holding the distinction of being the first female head athletic trainer in any of the four major sports in the United States (MLB, NFL, NHL, NBA); and, having served as Head of Athletic Training and Sport Performance with US Soccer's Men's National Team.
Sandy Hilton
Sandy remains a go-to source via speaking and courses at Entropy Physiotherapy for pelvic health and approachable patient-focused pain education. Sandy Hilton graduated with a Master of Science in Physical Therapy from Pacific University in 1988. She received her Doctor of Physical Therapy degree from Des Moines University in 2013. Sandy has contributed to multiple book chapters, papers, and co-authored "Why Pelvic Pain Hurts". She is an international instructor and speaker on treating pelvic pain for professionals and for public education. Sandy is a regular contributor on health-related podcasts and is co-host of the Pain Science and Sensibility Podcast with Cory Blickenstaff. Sandy was the Director of Programming for the Section on Women's Health of the American Physical Therapy Association from 2012 – 2017. She is now on the board of the Abdominal and Pelvic Pain special interest group, a part of the International Association for the Study of Pain.
---
Business
Greg Todd
In 2018, Greg saw growth of his online courses and mentorship group which helps clinicians better understand business and entrepreneurship. Greg Todd is the co-owner of Renewal Rehabilitation in Wesley Chapel and Hyde Park. With nearly 20 years of experience, Greg is a board-certified orthopedic specialist through the American Physical Therapy Association and has served as the official physical therapist for Saddlebrook Tennis and Golf Resorts for the past 10 years. He also works as a consultant for professional tennis players on the ATP and WTA tour. Greg is also an avid runner and has completed four marathons, seven half-marathons, and numerous 5k races. His most recent interests include career mentorship, business development, marketing, and a thorough understanding of the business of physical therapy while embracing the use of technology as a way to connect with more frequently with patients and build the brand of what makes physical therapists so vital and powerful to the healthcare industry.
Jerry Durham
In 2018, Jerry made a successful transition from owning his clinic in San Francisco and focused on developing a patient education and front desk course. Jerry Durham is a Physical Therapist who is now helping Physical Therapy Practice owners engage patients for great results. Following graduation from Physical Therapy school, Jerry practiced in a variety of settings, inpatient and outpatient, from small independent clinics to large hospitals and from the very beginning, Jerry questioned why there wasn't an emphasis placed on treating patients as individuals, with unique concerns and objectives and why more effort wasn't being made to develop true relationships with patients. Jerry currently serves as the Chief Relationship Officer for his physical therapy practices, hosts the podcast Healthcare DispuPTion, is a nationally recognized expert and sought-after conference speaker as well as a clinical instructor who travels across the United States teaching the next generation of practice owners.
Ben Fung
In 2018, Ben saw more public appearances, increased social media presence and became the go-to authority of physical therapy data analysis as co-author of "The 2018 Physical Therapy Industry Prospectus." Ben Fung is a Physical Therapist turned Independent Media Producer, Startup Entrepreneur, Consultant, and Keynote Speaker. He is one of the few practitioners that has experienced every major clinical setting in the space of Physical Therapy, from acute care hospitals to community wellness to rural home health — from various rungs of responsibilities from aide to program director. His present focus is in optimizing growth for companies and investors in various industries including healthcare, health-tech, human resources, and marketing. Ben is recognized as a research pioneer of contemporary kettlebell exercise; and, as a subject expert in digital marketing and branding as well as connecting with top talent. Ben currently serves as COO of UpDoc Media, a marketing agency specializing in health/tech companies; and, as CFO of Recharge, an investor-backed CrossFit-Physio hybrid with a mission to redefine the healthcare experience by breaking down the silos of medicine, health, fitness, and wellness.
APTA Private Practice Section
In 2018, PPS saw it's the biggest conference ever as well as several online initiatives to improve physical therapy approachability. The Private Practice Section (PPS) is comprised of over four thousand members nationwide who own, operate, or work in a private practice setting. PPS champions physical therapy success in business as a component of the American Physical Therapy Association (APTA). Their content expertise spans from advocacy; payment policy; education on practice management, business, marketing, public relations, and business innovation. The Private Practice Section, APTA was incorporated in Nevada in 1956 as a non-profit 501(c)6 and is now headquartered in Alexandria, Virginia.
WebPT
In 2018 WebPT celebrated 10 years at HQ in Phoenix with their growing conference Ascend, while delivering an expanding digital product portfolio. Listed on Inc. Magazine's list of the nation's 5000 fastest-growing companies five consecutive years in a row—earning it a spot on the prestigious Inc. Honor Roll—and ranked on the Deloitte Technology Fast 500 list in 2016; this company is not only fastest-growing EMRs in the country, but they also boast a strong workplace culture in lean business principles, a casual work environment, and collaborative, team-oriented workspaces. Still not merely an EMR company, WebPT offers a tremendous bank of content as well as other software solutions in "empowering the rehab therapy community to achieve greatness in practice."
UpDoc Media
Known for it's podcasts, blogs, and industry insider publications such as The Job Market Pulse & the Amazon Best Seller, "The 2018 Physical Therapy Industry Prospectus" — UpDoc Media came to be as a brand synergy of its physical therapy co-founders; originally setting out to be a digital media and marketing agency for Physical Therapists by Physical Therapists, UpDoc Media has since expanded to general healthcare, technology, and education.
Will Butler
Will Butler is a Physical Therapist turned Northwestern Mutual Financial Representative. He is a go-to resource for many social spheres within Physical Therapy for all things finance; and, has dedicated pursuit of excellence to defining financial security and creating solutions that help make those financial goals a reality. During his time in clinical care, Will saw patient after patient whose chronic pain originated from personal or business financial stress. Rather than continue to treat these symptoms, Will chose to address the causes – the anxiety, pressure, and hassles that result from uninformed financial decisions.
Larry Benz
Through the growth of Confluent and various speaking engagements, Larry saw continued influence within the business and leadership areas of physical therapy. Dr. Larry Benz, DPT, OCS, MBA, MAPP is the President/CEO of Confluent Health which includes the following companies: Evidence In Motion, Texas Physical Therapy Specialists, ProRehab, Fit For Work, Breakthrough Physical Therapy, PT Central, Redbud Physical Therapy, SporTherapy, Orthopaedic and Sport Physical Therapy, ProActive Physical Therapy Specialists, Kinetacore, The International Spine and Pain Institute, and the NeuroRecovery Training Institute. Dr. Benz is nationally recognized for his expertise in private practice physical therapy and occupational medicine. He is the recipient of numerous business and physical therapy awards including the Kentucky Physical Therapy's Outstanding Physical Therapists award and Ernst & Young's Entrepreneur of the year for his region. He is the co-developer of physicaltherapist.com, and blog.evidenceinmotion.com, a blog devoted to the principles of EBP in physical therapy. His Foundation is the co-developer of Jacmel Rehabilitation in Haiti which can be found at PThelpforHaiti.org.
---
Fitness
Kelly Starrett
2018 brought the launch of a new book, expansion of MobilityWOD, the launch of a new podcast and further expansion of his message to move more. Kelly Starrett is a coach, physical therapist, author, speaker, and creator of MobilityWOD, which has revolutionized how athletes think about human movement and athletic performance. His 2013 release, Becoming a Supple Leopard has become a New York Times and Wall Street Journal bestseller. This blog was voted #4 in Outside Magazine's Top 10 Fitness Blogs of 2011, Breaking Muscle's Top 10 Fitness Blogs of 2011, and Health Line's Top 100 Health Blogs of 2011. Kelly and his work have been featured in Tim Ferris' Four Hour Body, Competitor Magazine, Inside Triathlon, Outside Magazine, Details Magazine, Power Magazine, and the Crossfit Journal.
John Rusin
John saw his influence grow with the launch of a new program, expanded speaking engagements and a docuseries with EliteFTS. Dr. Rusin is the owner of John Rusin Fitness Systems, an online fitness platform geared toward synergizing the best of high-performance training and intelligently designed pain-free training programming to elite level athletes and general fitness clients across the world. Dr. Rusin's website, DrJohnRusin.com, continues to grow and gain the reputation across the fitness industry as a go-to resource for strength coaches, personal trainers, and rehabilitation professionals with it's science-backed and gym tested articles, videos, and programming.
Jen Esquer
Jen saw continued growth on social media as well a launch of several mobility focused programs. Well known on Instagram, @DocJenFit and her half a million followers know her as a Doctor of Physical Therapy based in Los Angeles, CA. Her love for movement and the body came from an early age as she competed in gymnastics for 9 years, coached and taught Pilates for 6 years through undergrad and graduate school. She continues to explore movement through calisthenics and AcroYoga and focuses on educating the masses through social media. With the release of her latest program, The Mobility Method, Jen continues to help more people learn how to relieve pain, prevent injury and optimize their movement!
Prehab Guys
The Prehab Guys are well known in the fitness world, especially in their ability to effectively communicate complex clinical ideas in quick and meaningful video productions for health promotion and injury prevention. Their mission is to instill new meaning into the term physical therapy. "Physical therapy is the key to preventative rehabilitation or "PREHAB" for short. Physical therapists are human movement consultants. In order to take care of our bodies, we humans seek dentists for oral hygiene, physicians for internal medicine, and eye doctors to preserve our vision. Movement is just another pillar in which care must be given as well." — All through the delivery of accurate information to help their audience move better and decrease risks for injury.
Recharge
Recharge was co-founded by Drs. Gene Shirokobrod, Ryan Smith, and Ben Fung — a community-driven, proactive approach towards health in contrast to the traditionally reactive response seen in mainstream healthcare. This investor-backed startup is making waves in the physio meets fitness realm; with its model featured in a mock-Shark-Tank at the Graham Sessions hosted by APTA's Private Practice Section, it is being closely watched by an eager generation of developing professionals and established practices alike. Additionally, it has become recognized as an up-and-coming brand in the Howard County community in Maryland by both its residents and its local officials.
Chris Johnson
When thinking about running and physical therapy, typically the first name that comes to mind is Chris Johnson. Physical Therapist & Ironman, Chris Johnson, is well known in endurance athletics and running. Chris is a certified triathlon coach (ITCA), three-time All American triathlete, two time Kona Qualifier, and is currently ranked 16th (AG) in the country for long course racing. In 2016, Chris also launched a new app called Run Cadence. Chris is also extensively published in the medical literature and has a monthly column on Ironman and an elaborate YouTube channel; and, has additionally served as a medical consultant to the New York Rangers.
Quinn Henoch
Quinn is an internationally recognized therapist, author, presenter, and coach. His philosophy is centered on establishing the behaviors and lifestyle that foster long-term athletic training and development. Quinn has experience and is very comfortable not only being the patient's point of contact for rehab but also bridging the gap back into the gym and onto the field, by creating science-based periodized strength and conditioning programs, based on the activity demand.
Mike Reinold
Mike continued to deliver regular sports medicine and fitness knowledge through his expanding social media presence. Mike Reinold is considered a world-renowned leader in the field of sports medicine, rehabilitation, fitness, and sports performance. As a physical therapist, athletic trainer, and certified strength and conditioning specialist, Mike uses his background in sport biomechanics, movement quality, muscles imbalances, and manual therapy to specialize in all aspects of human performance. He has worked extensively with a variety of professional athletes with an emphasis on the care of throwing injuries in baseball players. Mike is currently the co-founder and president of Champion Physical Therapy and Performance, physical therapy and performance training facility just outside Boston in Waltham, MA. Mike is also currently a Senior Medical Advisor for the Chicago White Sox and the Director of Baseball Performance at Northeastern University.
---
Media
Stephania Bell
In 2018, Stephania spread her knowledge and message through regular mass media appearances, as well as various physical therapy speaking engagements. Stephania Bell joined ESPN as a senior writer and injury analyst in 2008. A licensed physical therapist, board-certified orthopedic clinical specialist and certified strength and conditioning specialist, Stephania regularly appears on ESPN's NFL and fantasy football coverage, including SportsCenter, The Fantasy Show and Fantasy Football Now, in addition to co-hosting ESPN Audio's Fantasy Focus Football podcast. Bell has received many honors and awards. Most recently, she was elected to the Fantasy Sports Writers Association (FSWA) Hall of Fame in 2017, becoming the organization's first female inductee. She was also named a Top 40 Influencer by UpDoc Media, a digital media and marketing company specializing in physical therapy and healthcare services.
Pain Reframed
Pain Reframed saw steady growth and had important conversations regarding the best approach to dealing with pain and minimizing the need on the medical system. The Pain Reframed podcast is sponsored by the International Spine and Pain Institute (ISPI) in partnership with Evidence In Motion (EIM) — hosted by Dr. Tim Flynn and Dr. Jeff Moore. The mission is to uncover how pain is being managed in society and "how we, as healthcare professionals, can minimize patient suffering." The podcast hosts are committed to changing language and practice patterns across disciplines and points of care; and, reduce the unnecessary suffering that results from the propagation of misinformation, insufficient understanding of the pain experience and the over-medicalization of pain in society.
New Grad PT
New Grad Physical Therapy is no stranger to being an influencer. Their mission is to provide new physical therapists resources and tools they need to be successful in both their careers and their lives. Per their philosophical statement: "We understand that a career in healthcare is a sacrifice and the people who sacrifice deserve a community of peers who care. We believe that coming together as a community to make each other better is paramount to grow as a profession and as individuals."
Healthy, Wealthy and Smart
The Healthy Wealthy & Smart podcast with Dr. Karen Litzy features top experts in physical therapy, wellness, and entrepreneurship. This podcast delivers information and inspiration to take one's life and career to the next level. Dr. Litzy is currently the owner of Karen Litzy Physical Therapy, PLLC, a concierge physical therapy practice in New York City, where she sees clients in their home, gym or office. Aside from physical therapy clients she also sees clients for wellness training, surgical packages and golf fitness evaluations. She is on the board of directors for the non-profit Physical Therapy Business Alliance and part of the PT Day of Service team.
Talus Media
Talus Media is a group of fresh physical therapy professionals and students committed to bringing their audience members up-to-date unbiased news and stories within the PT world. Their aim is in providing their audience not only the facts but to offer a platform of transparency where the voices and thoughts of individuals within the profession can be heard.
PT Pintcast
This unique podcast came about when Jimmy McKay, a former rock radio DJ and now Physical Therapist, brought his media background to produce a relaxed and conversational interaction between leading minds within the profession, but recorded and heard as if those in each episode were sharing a pint of beer. As of July 2017, PT Pintcast has been heard in 131 different countries & downloaded more than 815,000 times. PT Pintcast has interviewed some of the top minds in Physical Therapy, with many more to come.
Therapy Insiders
2018 saw TI podcast cross the 1 million download mark and expand into video/Live episodes. The Therapy Insiders podcast, hosted by Drs. Gene Shirokobrod, Joe Palmer, and Erson Religioso dive behind the scenes into the insider insights within the profession while also gaining contributions from popular culture. Guests invited on this show are usually leaders within their space at a clinical, research, fitness, or business framework. Additionally, this podcast has hosted New York Times and Wall Street Journal best-selling authors as well as Forbes 40 under 40 alumnus.
The PT Entrepreneur Podcast
This podcast is hosted by Physical Therapist & entrepreneur, Danny Matta. His goal is to use this podcast/platform and help people realize their entrepreneurial unique genius. Per his words, "I also want to teach you how to take that unique genius and leverage it into a life you've always wanted. Make more money, have more satisfaction with your work and spend more time with the people you love. America is a land of opportunity. Seriously, that sounds very cliche but in many other countries you may never have had the opportunity to bet on yourself."
---
New & Noteworthy
Physio Memes
If you've been cackling at some funny Physical Therapy based images on social networks as of late, there's a good chance you've been enjoying Andrew Tran, PT, DPT and his up and coming brand, Physio Memes. They have blogs, they have swag, and they are legitimately hilarious, nerdy, and real.
Level Up Initiative
Founder Zak Gabor PT, DPT, CSCS created the Level Up Initiative as a place where growth mindset and driven individuals could come together as a positive community. Dr. Gabor's aim in all this was to inspire people to make positive changes whether simply studying for an exam, trying to become a badass clinician, or rehabbing patients through pain or injury — sharing a purposeful passion for the greater good of raising the bar in the profession.
Jarod Hall
Dr. Jarod Hall is a PT, DPT, OCS is based out of Fort Worth, TX. His clinical focus is orthopedics with an emphasis on therapeutic neuroscience education and purposeful implementation of foundational principles of exercise in the management of both chronic pain and athletic injuries. Jarod has shown clinical excellence in securing designation as an Orthopedic Clinical Specialist (OCS) and Certified Strength and Conditioning Specialist (CSCS). He is also adjunct assistant faculty at the UNTHSC DPT program, instructing in the assessment and treatment of orthopedic injuries, pain sciences, and manual therapy. Dr. Hall regularly presents continuing education at the state and national level for practicing physical therapists. Additionally, Dr. Hall is an internationally recognized blogger, whose work has focused on how to succeed in the clinical environment as a new grad, debunking common exercise and rehab myths, manual therapy, and pain science.
Leon Knight
Dr. Leon Knight, Owner & Physical Therapist at Movement Solutions Physical Therapy, earned his Doctorate of Physical Therapy from New York Medical College and his Bachelor of Science in Business Administration from Elon University. While in graduate school, Leon became a certified strength and conditioning specialist (CSCS). He loves working with the active population to promote wellness and injury prevention. Leon believes that with proper nutrition, high fitness level, and good biomechanics individuals can decrease their injury rate dramatically.
Modern Pain Care
The team at Modern Pain Care is represented by Mark Kargela, PT, DPT, OCS, FAAOMPT, Marcos Lopez, PT, DPT, OCS, Mark Powers, PT, DPT, OCS, FAAOMPT, Cory Blickenstaff, PT, OCS, Jarod Hall, PT, DPT, OCS, CSCS, and Roderick Henderson, PT, ScD, OCS, CSCS. Modern Pain Care's mission is to empower clinicians and patients to better understand and treat pain; by bringing top-level understanding and treatment of pain through education and empowering the patient voice.

Stefi Cohen
Dr. Stefi Cohen, Co-Owner, CSCS, Nutrition Coach, DPT has an extensive list of achievements in the athletic field but she is also very well accomplished in the academic field. Not only is Stefi a multiple world record holding powerlifter, but she is also an exercise physiologist and doctor of physical therapy. In Olympic Weightlifting, Stefi was the Florida senior state gold medalist (2015). Illinois senior state gold medalist and record holder (2015). In Powerlifting Stefi is the current all-time world record holder in squat, deadlift and total, she has 11 total all-time world records so far in her career and is the #1 123lb Powerlifter in the world. Prior to strength sports, Stefi was an accomplished NCAA (D1) Soccer Player for San Diego State 2009-10, she was also a member of the U17 Venezuelan National Soccer Team 2006-09.
Stephanie Weyrauch
Dr. Stephanie Weyrauch is a strongly active advocate of the Physical Therapy profession and has been involved in the development of the profession from within since the beginning of her career. Stephanie actively lobbies for healthcare policy issues at the local, state, and national levels of government. She is a nationally sought-after speaker and consultant for topics on social media use, generational issues, and organizational membership and currently manages the social media accounts for the APTA Academy for Physical Therapy Education and PT Day of Service. She is also the co-host for The Healthcare Education Transformation Podcast, which focuses on innovations in healthcare education and delivery; and, most recently was voted in as a Private Practice Section Nominating Committee member.
Uchenna Ossai
Dr. Uchenna "UC" Ossai is a sex-positive pelvic health physical therapist, sex educator, and counselor, and is on the faculty for the University of Michigan in Ann Arbor, Sexual Health Certificate Program. UC is only one of three licensed Physical Therapists in the world with an AASECT certification in sexuality counseling; as well as the only Black Physical Therapist with this specific designation. UC spends her days treating people with both sexual and pelvic floor dysfunction, and her evenings educating the masses on everything that has to do with "sexytime." When it comes to sexual intelligence and great sex education, UC embraces always being unapologetically real, happily crunk, and deliciously kind. Additionally, Presented at the 2018 Graham Sessions in San Diego, hosted by APTA's Private Practice Section — one of the highlight moments in this very unique conference, a moment where the entire group attendees could come together on diversity.
---
As always, the team at UpDoc Media extends a heartfelt thanks for being part of our community and adding your voice in naming our industry influencers. Be sure to keep an eye out for our "2019 predictions," for which we are very much excited to share!