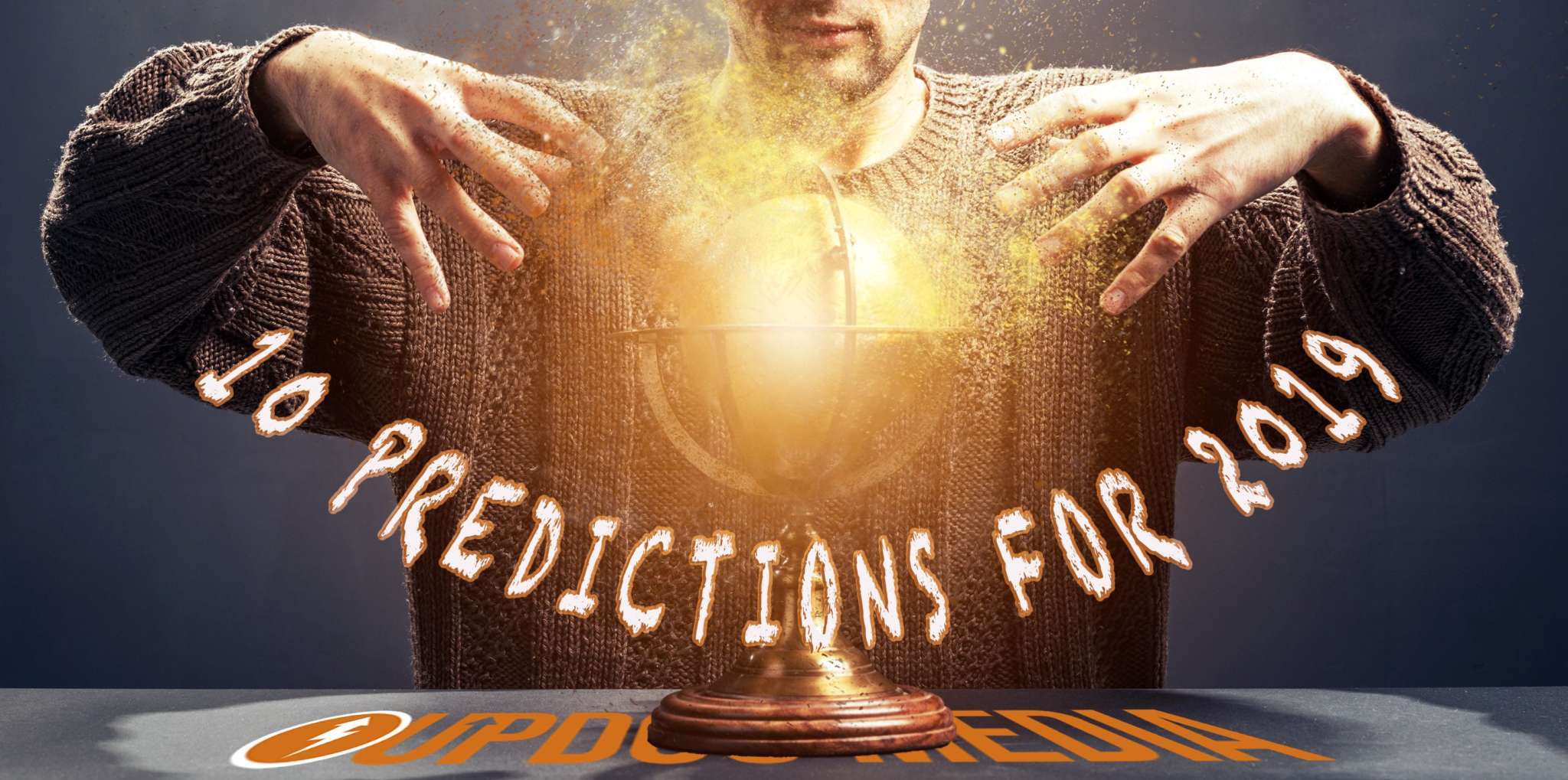 Happy New Year!
The team at UpDoc is pleased to share these ten predictions for 2019. As we came together to name these predictions, we wanted to cover a few topical bases. So, this year, we are making predictions on: (1) Consumer Behaviors, (2) Digital Marketing and Advertising, and (3) Physical Therapy & Healthcare Industry Trends.
Here are…!
---
10 Predictions for 2019
On Consumer Behaviors…
1. A landscape of content clutter and media channels ubiquity.
This first one is a bit of a doozy. Background: In the latter part of 2018, we released a video titled "Standing Above The Social Media Content Clutter" outlining strategies to stand out uniquely from all the content on social media. For 2019, this effect will compound more than ever before. Attention has become the singular, most valuable currency for businesses. Companies are creating more content than ever before, more freemium platforms than ever before, participating in more social media outlets than ever before — all in hopes to meaningfully connect with consumers… ideally, with their preferred audience buyer segments.
Ironically enough, we are now at this point in time where our situation mirrors the dawn of the internet. Before everyone got spammed with those free AOL CDs back in the mid-late 90s (and, turned them into coffee mug coasters), companies were similarly competing in a time of media channels ubiquity — just as they are now.
BEFORE THE INTERNET: If you were a company trying to connect with consumer audiences, you were using every possible channel. You were on print, you were in magazines, you were in newspapers, you were on billboards, you were seen on local television commercials, you were heard across radio stations, you were on bus stop ads, you sent direct mail, you had a spot in school newsletters, you sponsored local associations and clubs… you were EVERYWHERE.
Well, we are here again in 2019. Every brand has (or, at least should have) a presence on their corporately managed website, on Google My Business / Google Places, on a handful of social media channels, with online advertising platforms, and through an email marketing software of choice.
Digital media channels are no longer a competitive advantage — it's an entry level business competency.
So then, what now? Our current state of affairs reminds me of one of my favorite quotes from Pixar's The Incredibles, "[paraphrased] If everyone is special, then no one is." Is it possible to win in such an environment? Glad you asked! Because, this leads us to prediction #2…
2. Hyper focused, yet simple messaging.
As consumers are bombarded by constant messaging and content overflow, buying behaviors will be determined by finding the right message at the right time.
Consumers will want to see exactly what they are looking for, without searching and sifting through content… without confusing messaging with technical terms and unnecessary browsing or shopping experiences. In fact, speed will become a crucial element of the buying journey. Specifically, the speed it takes to: (1) find the message, (2) trust the message, and (3) finally, purchase the product of that message while minimizing risk along that conversion journey.
Speaking of messaging, this leads us to Prediction #3…
3. A true lead counts when conversation happens.
Lead generation used to be straight forward. Someone clicks, opts in, adds a product to an e-commerce shopping cart. It used to be so simple.
Across this past year of 2018, many marketing efforts have centralized on lead generation. Companies are growing painfully accustomed to their fair share of bad leads and consumer prospects that don't quite convert to purchasing customers. The ones that do convert from these lower quality groupings, tend to fall into the same pattern of behavior: poor voice-to-voice contact, low messaging response rates, and a high percentage of no show events for "first visit" (initial purchase) and "second visit" (repurchasing) behaviors.
For 2019, a lead will not truly "count" until your brand has a conversation with them. Building on predictions #1 and #2, the best way and the best place to have such conversations with prospective buyers will be on digital platforms — ideally, through direct messaging channels via social media.
Therefore, be prepared to make messaging a big part of your new customer acquisition strategy — both the technical aspects of digital conversations as well as the requisite focus in messaging narratives which sparks these actual conversations.
Of course, to have a conversation… a prospective new customer must first find you in order to have that chat. So, how will customers find their consumer solutions in 2019?
4. The rise of voice search.
Siri, Alexa, Cortana. You've probably heard of at least two out of these three. The fact is:
Over 325 million people are searching through the internet using voice search.
20% of Google searches are done through voice search with 95% accuracy of answers.
Amazon sold tens of millions of Echo devices through 2018.
By 2020, 50% of searches will be voice searches.
The reality is that voice activated search tasks are so common at present, that a recent viral story broke on a "mom catching her 6-year-old son cheating on math homework using Alexa."
There are some distinctions on voice search versus traditional search bar results. The most important difference is this: Voice search doesn't list off everyone on the first page of Google search returns, as if one was actively scrolling through the immediate results.
Voice search usually only lists the top one, two, or top three results — depending on the platform and/or device settings. While most experts are saying that "Voice SEO" isn't quite developed to the point where traditional SEO solutions can meaningfully impact optimization, current best practice includes: (1) ensuring your digital footprint copies (writing, blogs, business listings) are narratively compatible to speech, (2) have a wicked quick website [see Prediction #2], and, (3) focusing current SEO strategies on local and regional targeting factors.
Need a refresher on Local SEO? No problem! We have this webinar you can check out; and, as always, you can always mark a time to chat with the UpDoc marketing team!
---
On Digital Marketing and Advertising…
5. Google Places will surpass Google Search traffic for local business.
You've probably been using this platform without even knowing it; Google Places, a Google Maps Platform, changed their name to Google My Business back in 2014. They did this without too much attention grabbing; and, in recent times, this entire business-consumer ecosphere within the Google ecosystem has been shifting their scale of approach.
Most recently, Google has been putting Google Places / Google My Business results before standard Google Search results. You've probably noticed that as you've been Googling for places, consumer oriented reviews and results have been populating first — as if you were Yelping, rather than standardly searching. To this effect, Google has been prioritizing regularly updated searches and consumer/user reviews for businesses.
This means keeping up with current reviews, nothing older than 3 months, will be tremendously important for 2019; and, Google My Business (GMB) are more important than ever before. If you don't have a current strategy to prepare for this, we have a couple articles that may help:
6. An aggressive pay-to-play advertising environment.
As alluded to #1, #2, and #3 — getting in front of prospective buyers is going to be a tough battleground. Just as in the pre-internet days when organic (aka. word of mouth) efforts did not help companies grow fast enough, leading businesses to turn to paid advertising — 2019 will prove to be a similar environment, now with digital as the medium of choice.
Due to the fact that online content clutter has become a true problem for consumers, companies have discovered that if you can't reach your audience through organic traffic on digital media — then, you must pay to play, just like everyone did pre-internet.
Here are the facts behind organic traffic coming into 2019:
On Facebook, your page's organic reach is at most 16% of your following.
Some reports have shown numbers as low as 2 – 4%. Translated: If your company's business page has 1,000 followers, only 20-40 people will organically see your posted content on their Facebook feeds.
Even as early as this time last year, marketers across industries expected price hikes in digital advertising costs.
Specifically to healthcare, digital marketing adoption has always been at a slower rate compared to other industries — "we are still in on the early days."
Therefore, the chances are high that prices will never be this low again, when it comes to paid online advertising. AND, it's important to note that for the time being, platforms still respect longevity of ads as much as they respect the precision of targeting factors and algorithms.
Now, there's usually a striking concern that if we are entering a pay-to-play environment, then those with the largest dollars will simply win out. Fortunately, our situation for 2019 isn't so simple.
Just as a large advertising budget certainly helped during pre-internet times, it does help if you have a large budget now. But, there's a wrinkle in the system: User Behaviors.
Consumers on digital media can customize, both overtly and through natural browsing behaviors, the types of paid content they wish to see. Algorithms on Google, Facebook, and Instagram base much of the decision process as to what content a user sees on the user's most recent browsing behaviors and search history.
Also, just because you pay for an online ad doesn't mean it's strategically or meaningfully placed — or, that the people you hope will see it will actually engage with the content. What do we mean by "meaningfully placed?" It all goes back to Prediction #3 — is the content being shown to the right person at the right time with the right message for the right action?
Creating strategically and meaningfully placed paid content for 2019 will be a game of mastering this "subtle science and exact art." (Severus Snape, ― J.K. Rowling, Harry Potter and the Sorcerer's Stone).
7. Market your company for non-consumer purposes.
For 2019, marketing strategies will not be and cannot be solely consumer focused. Especially in healthcare, where mergers and acquisitions are rampant, management service organizations are starting to grow, business alliances are maturing — not to mention the (spoiler) volatile job market, particularly with burnout at an all time high — yes, strong marketing strategies will encompass and reflect a company's entire operating strategy for 2019.
While marketing in 2019 will naturally have a strong direct-to-consumer element, it will also need to flesh out a digital footprint that is attractive for purposes such as M&A, MSOs, and alliances. Furthermore, it will need to include strong moves in marketing for top talent. If you're looking for a few ideas, please check out:
---
On Industry Trends…
8. Generally accepted compensation models won't work anymore.
Continuing on the theme of human resources from Prediction #7, this prediction flies in the face of the status quo. The idea isn't necessarily popular — change rarely is, at least in its infancy.
However, we're not really in the infancy of this type of change; it's simply "new" to Physical Therapy and healthcare as we know it. We've explored this family of topics in posts such as:
The fact is this: As much flak as Millennials get, even via the board game Monopoly for Millennials — and, despite the tremendous amount of debt for this generation, it's not just about the money for the majority of the current workforce. As the largest population segment of the workforce, the Millennial Economy and the culture that comes with it is beginning to intertwine across workplace demographics and across industries lines.
Even during our time at the APTA's Private Practice Section conference last year (2018), we had conversation after conversation — owner after owner, manager after manager, clinical director after clinic director…
"I offer them the world. Highest salary I've ever offered. I offered to pay for their residency and fellowship. I offered to help with their student loans…. but, they decide to move back home!"
Sound familiar? Yeah. That… was an actual quote from a conversation during the first day of the 2018 PPS conference with a clinic owner that has been trying to hire a potential legacy solution. So, if historically and customarily accepted compensation packages aren't going to work… if it's not just about the salary, benefits, perks, culture, workplace balance, and/or workplace opportunity — what will it all be about?
Here are a few ideas human resource innovators are talking about:
Customized reward and recognition programs, specifically designed per employee.
Pre-defined leadership and promotion tracks for new grads.
While not new, but certainly new'ish to healthcare: employee stock option plans.
A radical shift to base-pay + high-risk-high-reward revenue-share models.
A mass simplification of employee compensation packages, focusing on cash flow.
Rapidly moving away from "minimal HR requirements" into a performance driven compensation model.
Truth be told: No one who specializes in human resources or talent acquisition is claiming they have the future dialed down on this. They simply agree that things are changing, and, that things must change. The current approach is not only unsustainable, companies that fail to adapt and involve their current top talent in the process will be sure to suffer the worst turnover seasons in recent history. For healthcare companies that fail on this front, it will bring astronomical inflation of operating costs in talent retention, talent acquisition, lost revenue due to leaky supply chains along with lost marketshare capture, and, adding inordinate amounts of stress to an already overwhelmed middle management.
For what it's worth: from us here at UpDoc, our suggestion is to "create more circles and less rows."
9. Preparations for an evolving reimbursement landscape will be aggressively attended to.
Fall Conference season for 2018 had one major component in common, regardless of the nature of the conference or who was hosting the conference — that major area of focus was on the changing reimbursement patterns and in value based healthcare.
MIPS. PDPM. APMs… honestly, it would make ANYONE's head spin. Nevertheless, if you wanted to read up on it from the source, you can find that Here (MIPS), Here (PDPM), and Here (Everything Else). You can also check out the resources from the conferences we attended in Fall of 2018 a la NARA, PPS, and WebPT's Ascend as primers on the topic.
The team at UpDoc doesn't pretend to be experts in payment reform. Nevertheless, as we we are keeping a light pulse on the matter; and, we have the privilege to be in a position where we can absorb the insight of those who are the experts.
Suffice to say, most companies are taking large efforts to become competently knowledgeable about the subject at hand; and, most are doubling down on some type of data science technology in order to present meaningful metrics to payers as value based healthcare prepares to be fully brought to bear — leading us to Prediction #10!
10. Technology will continue to challenge our comfort zones.
While this may begin as a conversation about tracking meaningful metrics and outcomes to negotiate reimbursement for value based healthcare, outcomes databases and registries such as APTA's PT Outcomes Registry will certainly come up in conversation and in the search bar as it pertains to "healthcare + technology."
Caution! Outcomes is just the tip of the iceberg.
Just as digital marketing has become an entry level business competency in healthcare, tracking data in a scientific way shall be the same for 2019 and moving forward. Our industry needs to prepare for technological disruption in arenas such as:
Cybersecurity
Virtual health
Blockchain
Big data
Mobile apps
Artificial intelligence
Cloud based technologies
Digital healthcare consumerism
Just to name a few. These waves are coming and there's nothing to stop them. If anything, they will likely arrive before we are ready. Therefore, you can either ride these waves; or, get crushed by them. And, any surfer will tell you, it's better to paddle towards the big waves, rather than try to paddle away from them.
In the specific focus of Physical Therapy and rehab therapy at large, the opportune areas of focus for our specialties of practice include artificial intelligence, digital healthcare consumerism, mobile apps, virtual health, and big data. And, yes… that's practically half the list. So, choose one or two that you know your company can competently explore and build on — this will be your first action step in learning how to surf these waves.
---
Some Closing Thoughts
2019 promises to be an exciting year. There is as much growth potential as there is uncertainty, and, just as much opportunity as there is instability. To quote Disney's The Lion King, "Ahh… change is good. — But, it's not easy."
From our viewpoint here at UpDoc Media, we've seen that when organizations strongly invest in growth solutions and adapt for change, they find themselves in a strong position as the year matures. As with all things we do here at UpDoc, we advocate an ecosystem approach. Therefore, consider these predictions in the three topical arenas as categorized above. Pick one from each to consider applying to your brand. Precisely plan your action steps and indicators of success. And, GO!