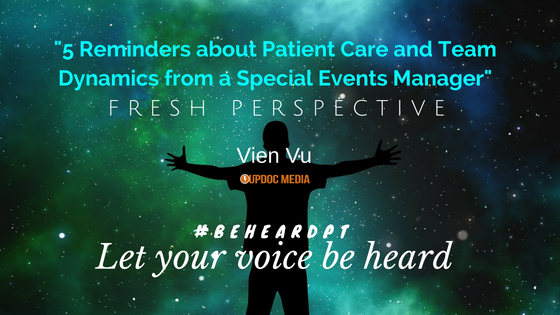 How does Pebble Beach Resorts attract a waiting list of customers despite their significantly high prices year-around? How do they keep staff so happy? Well as a former Special Events Manager, I can tell you! Sure their location is beautiful, however most people know that is simply a given. In fact, looking at their yelp reviews, most people talk about their customer service rather than the actual course. Here's how I bridge their lessons in hospitality to high-class customer service and team dynamics.
Customer isn't always right, but the customer always comes first.
Work with them, not against them! Sometimes there were difficult customers, just like there may be difficult clients and patients. Some may come in knowing what they already want (not what's best for them), some might not adhere well to a program, or some may just be downright rude. No matter what, it's our job and responsibility to make sure our customers get the best possible outcome quickly. If that meant giving them a free drink (because free food cost more), I would do it.
In physical therapy, if it means giving them the modality that you do not believe in, maybe do it once and educate them on better alternatives. Find a client's/patients' motivation, compromising with certain exercises, and I'll dig deep to find what works best. Create a win-win situation every time.
Attention to detail.
Now we all learn this in school. Drape the patient correctly, give them all the pillows they need, and pay attention to their positioning. Details will make people come back.
This was stressed since day 1 of the training at Pebbly Beach. Every blind had to be down to the same height and turned to the same angles. Every pencil, water bottle, and folder had to line up perfectly in all planes. Every time someone leaves the room, their area must be cleaned and re-positioned to the beginning appearance. That was the level of detail expected. In fitness and healthcare, it means remembering everyone's name no matter who they are, always having a towel in hand for your client/patient, wiping down their area before and after use, and giving them full attention at all times. These little things make you stick out to your customers, and can raise that standard of care for the profession. If your patients ever went elsewhere that missed one small thing you did, they will notice and return to you.
Leadership means bringing people up, not making them feel below you.
Pebble Beach does not just treat their customers well; they also respect their team. The key is no micromanaging, and absolute trust in partners, employees, and colleagues (hiring is key too, have you seen the Talent Acquisition Report?). In being on the Special Events Team, I was a part of a team made up of 33 amazing students who got hand-selected by Pebble Beach Executives. Although flattering a flattering group to be in, you could expect the strong personalities to clash. Sound familiar? Physical Therapists are all smart and brilliant; there's space for everyone to show their strengths.
In our management roles, I told myself to be ready. How can I highlight others' strengths, while also showing mine? Was it hard? Yes. Was I one of the difficult ones? Most likely. I found it best to think about dynamics throughout the day during my breaks, and then talk about the best ways to split up responsibilities. Our trust in each other led to efficient work, high sales, and great outcomes.
No job is beneath you.
Know your role, but if stepping in somewhere significantly increases efficiency and morale, do it. While managing employees and volunteers during all the special events, I learned that titles come with responsibilities and roles. That being said, I learned to step in anywhere I needed to be to make my staff work efficiently. Most of the time it was inventory check, quality control, ensuring clients were happy, shift management, and checking up on the small departments, but I found myself taking out trash and stepping in food assembly lines a handful of times. Heck, I was even doing breakdown and set-up of rooms alongside the CEO. Help where it's needed, and work smart. Make sure you're productive all the time to show employees that if you could, you would be helping them too.
Sales, sales, analytics, and more sales.
This is what most fitness and healthcare professionals dread hearing. We are in the business of helping and giving our clients/patients independence. So when we talk about generating sales, this doesn't mean swindling them into products they don't need, doing useless treatments because of billing, or prolonging their treatment. It means marketing, making sure they refer us, and giving them a reason to come back if something else happens.
In physical therapy school, we learn to invest in the future from the initial greeting to the final goodbye. Are you tracking how many patients are from self-referral or friend-referral? Are the same surgeons sending you the same amount of patients a month? Reimbursement is how most physical therapists get paid, but looking at other stats can also tell you where you can be better. We need people for reimbursements in the first place. This doesn't mean prolong treatment either; length of stay and treatment is more of an outcome measure. Look at data pertaining to new evaluations for sales, and data regarding discharge for clinician outcome.
Conclusion
Pebble Beach Resorts is a hospitality company with decades of excellent customer service. Being a Special Events Manager showed me that strategies for excellent customer service and team dynamics. Thanks for reading.
Vien is a Doctor of Physical Therapy Student and Certified Strength and Conditioning Specialists that has unique experience managing special events for the world-renown Pebble Beach Resorts. He has managed hundreds of full-time, temporary, and voluntary staff during enormous events such as Concours d'Elegance, Food and Wine, and the AT&T Pebble Beach Pro-Am Tournament. When he is not thinking about hospitality and patient care, he is talking everything fitness on his website www.howfitworks.com.