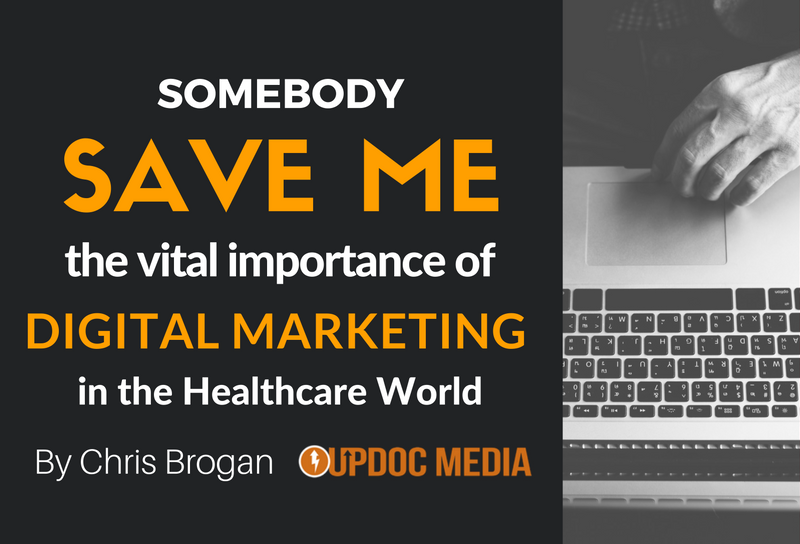 We are thrilled today to share with you today's guest post, coming from NY Times Best Selling Author & Business Advisor, Chris Brogan. Chris joined us for a popular Therapy Insiders episode called "Amazing Social Media and Marketing Advice."  Today, he shares valuable thoughts and numerous knowledge bombs on the fact that digital marketing is not just important to healthcare, it is vital.
---
Somebody Save Me: The Vital Importance of Digital Marketing in the Healthcare World
By Chris Brogan
You have to listen to me on this one. I know what I'm talking about. You need to use more digital marketing stuff to try and reach people. I'll explain.
I need to start this with a confession: I'm kind of professional medical help averse. It's not you. It's the whole MESS of what it takes to get me to stand in front of you. I lose my MIND dealing with even the most benign details of the healthcare system, and because of it, I don't see many medical professionals unless I really have to see them.
That's why I know you need to market with blogs and videos and stuff like that. Because you've got to see it from my seat.
Save Me!
I've decided I want to see a doctor and investigate testosterone replacement therapy. I asked my shrink (who's not involved in any official health care systems, and who is a bestselling author and frequent TV commentator) who "the guy to see" was, and he told me.
I make the call. They say, "Sure, we can see you. Oh, and we take your insurance. You have to call your primary care provider for the referral."
Here begins the misery.
I forget who I picked for a PCP, because mine retired (nice old guy, great bedside manner, had no concept of 'on time'). I had written down a doctor's name and information, but when I called that office, they didn't have any records. You see, I forgot that I was able to switch to another doctor that my shrink works with for ketamine therapy to treat depression. Right! So, now I'm all set with two doctor's appointments (because naturally I have to see my PCP for some reason before going to see the specialist, because, beats me, insurance?).
But Here's the Big Point
None of these three people have any kind of useful online web presence that would alert "customers" like me to their services, their personalities, and the synergies between their businesses. Literally all they have are crappy cookie cutter websites, health care provider reference sites, and a bunch of other junk. No voice. No presence. Nothing to call their own but some clip art and hours and a phone number.
Go Big, Healthcare Providers
We're in an age where the opportunity for concierge level services are more attractive and possible. We're also overloaded with search results that are like a messy lawn, unpainted building, and dirty bathrooms. Without some kind of well-considered online presence, you're missing the chance to tell your story to your buyers.
This doesn't take MUCH, but it does require some effort.
What do people want to know?
They want to know who YOU are, beyond the stethoscope.
They want to know what you're into as well as medicine/health.
They want to know what you offer that's cool, even if your version of "cool" is weird.
They want to know how you can equip them for success.
People are looking to connect with and understand the people they're hoping to do business with, and it doesn't take a lot of work to do this. A blog post here and there, some shared photos that go beyond the scrubs and lab coats, and even links to non-work-related stuff that you think is interesting would go a LONG way.
And, the Bonus
If you make it even easier to connect, your customers/clients/patients will love you all the more. My shrink and I chat via Facebook messenger (never anything that violates HIPAA or anything). I schedule appointments with my other doctor via text. For a growing number of people out there, this kind of connected feeling goes a LONG way towards deciding where we spend our time and money.
So please? For me? Because I'll tell you this: all three medical people mentioned in my story above (not counting the guy who retired) are really cool, and I hate that I couldn't even remember my PCPs name. If he sent me a really fun newsletter every month? I'd be on board.
---
Chris Brogan is a business advisor, a New York Times Bestselling author, and international keynote speaker. Learn more at http://chrisbrogan.com