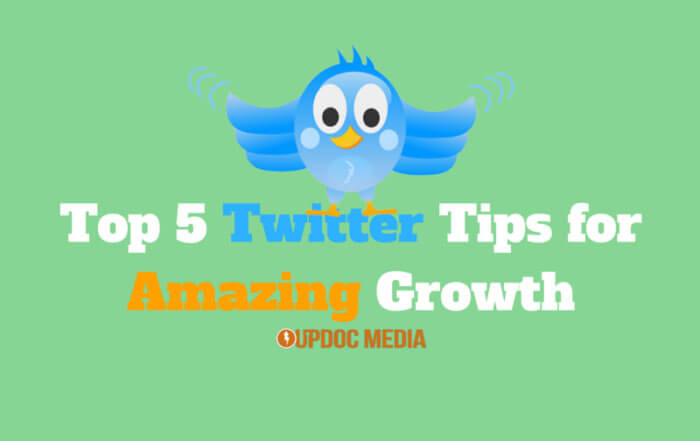 Can you believe it? It's been an entire month since the APTA NEXT conference. Can you say #Withdrawal?! And, just in case you missed it, you can read about my reflections & conference review HERE.
Well, at the conference and shortly after, I got multiple requests to share my top tips on how to best approach Twitter, especially for those who are new to the Twitter scene. Requests such as…
Putting in a special request for some @DrBenFung Twitter pro tips! ?

— Emily Rubin, SPT (@Emily_Rubin) June 12, 2016
Well, first things first. First, if you're on Twitter: Congrats! You're leaps ahead of the curve. Second, if you're not on Twitter: Here Are 10 Reasons You Need to Twitter. Spoiler Alert: One of the best reasons is, Twitter = Jobs. In fact, I had the pleasure of helping a now graduated DPT land a job directly through Twitter connections!
Well… enough of that! Without further ado, here are…!
---
My Top 5 Twitter Tips
---
1. Get A Memorable Handle
Anything like @JohnDoe1138_x_y_z… or @IamRoXoRz3905iiiiCzz are examples of not so great handles. Why? Because, while they may be creative… they aren't actually memorable. You may remember how to say the handle. You may even remember who the person is. BUT, when you're searching to follow or tweet at the handle… that's when people start getting frustrated and eventually give up.
Memorable means easy to recall, easy to say, easy to spell, AND, easy to associate handle to person. Now, if you're representing another brand; say a company, an app, a production, etc. Then, you'd do well to simply make that particulate brandname your Twitter handle.
In any case, avoid things that get too creative unless they are indeed, easy to recall & easy to spell. If it's not both, then it will be hard to search, hard to find, and easily forgotten.
PS. It could be as simple as your name 😉
PPS. And, adding to the above, it has much to do with personal branding, not to mention SEO.
2. Use Actionable Images
Your profile and your banner images are prime visual real estate. Be sure to make these areas as actionable as possible. Whether your have a link, other handles for other social media outlets, a snapchat filter, etc. What you put as your profile image and banner as extremely important to consider. To this, if you are your brand; make your profile picture a current, recognizable headshot. Make it easy, so that when you're wandering around a convention center, people can recognize you and stop you for an intro & connect.
Also, the banner image is a great place to say what you can't say, or, don't have room to say in your Twitter profile (more on that below). A picture says a thousand words. A MEME… says it all. Be efficient, creative, and expressive with that banner space!
3. Fill Out Your ENTIRE Profile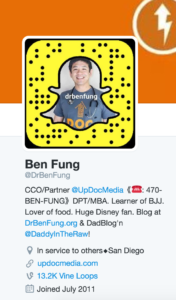 The profile length allowed for Twitter is as terse as its normal use. Therefore, it's important to maximize every character you use. Whether it's linking other handles, external links, or use of hashtags… make sure you fill out your ENTIRE profile. That means, fill in a location (which could be used as another link, website, or section to communicate), and, certainly be sure to include a website link. This link doesn't have to be yours. And, the location doesn't have to exactly be a location. For my profile, I like to communicate that I'm based in San Diego; however, my forte and goal is to serve others… to give. To make it so that my efforts lead to mutual growth and mutual success.
You'd be surprised how many profiles are not 100% filled out. Twitter only allows so much real estate to be used… so, USE IT!
4. Use Relevant Hashtags
People tend to hashtag things in similar veins of thought, content, or concept. Moreover, hashtag browsing is a common behavior for Twitter users, particularly when there's a big to do. Hashtags help users centralize community discussions as well as highlight important tweets relevant to any given community. A great tool in this space is Symplur. Check out their metrics for #APTANEXT!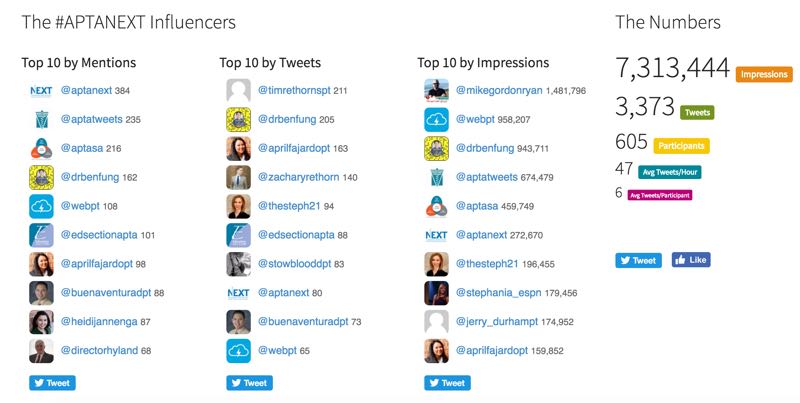 For #PhysicalTherapy, I'd recommend checking out #DPTstudent #PTAstudent #FreshPT #GetPT1st #ChoosePT #FreeTheYoke #bizPT, and, the occasional #brandPT.
5. Engage With Purpose
Beyond favoriting and retweeting tweets, think about true engagement. Reply, discuss, propose, pontificate, provoke a friend, encourage a colleague, ask a question, give-give-give, and pay it forward. Use images with possible, especially gifs. Quote retweet to emphasize, comment, or serve to be able to double retweet — in that, you can still RT the original tweet later to double the support for a particular thought someone took the time to share. People still appreciate the RT 😉
Respond as quickly as possible. Tag people in your images. Mention people. All to say, people will notice you're taking the extra effort to connect in a meaningful way.
---
Speaking of extra effort…
I promised at #APTANEXT that I'd mention all the people I engaged with in specific thread on Twitter.
If we met in person:
RT, Reply, show the VALUE on just networking @ NEXT.#blogtocome pic.twitter.com/locz7qMMBj

— Ben Fung (@DrBenFung) June 10, 2016
So… here we go!
@AlexisMorganPT @AmyPakulaDPT @AprilFajardoPT @btachibana @buenaventuradpt @childsjd @CindiRauert @daschaser @DirectorHyland @DrBryanStewart @DunnSdunn2 @DustinJonesPT @HeidiJannenga @ianmacmurdie @jilliant_dpt @JMcAfeePT @KaylaKeck_DPT @Kendra_PT4Life @KristaGreenSPT @landoyo @lukefordSPT @MarClay10 @MathewHiltonSPT @McAfeePT @megroosSPT @MichelleBomyea @nixedpt @policy4pt @ricksbrother7 @RJGotAGoni @RUSH_SPT @schroatpt @stingraefit @taylorprice23 @ThePrehabGuys @TimRethornSPT @zacharyrethorn @ZacMorganDPT

And, yes… I personally linked everyone above.

Now, I know some of you in this list weren't physically there at NEXT. And, that's okay! The point I wanted to convey is how important it is to connect, communicate, and converse with our colleagues through both physical and virtual means.
---
Some Closing Thoughts
Twitter is 100% a conversational platform. This is the case because Twitter's very nature that it is text based and highly responsive. While expanding to short video conversations & live streaming through #Periscope, Twitter is no longer a sharing platform. Twitter is a connecting platform.
Twitter is where the hyper engaged go to dive deeper in circles of community, spheres of influence, and serendipitous connections that only promise amazing opportunities to follow.
PS. Did you know that the 1st time I met Dr. Gene Shirokobrod was at #APTACSM in 2016? Despite having launched UpDoc Media together many months before? #AnotherStoryForAnotherTime
Those are my 5 Tips. What are yours???
Talk Soon!
-Ben