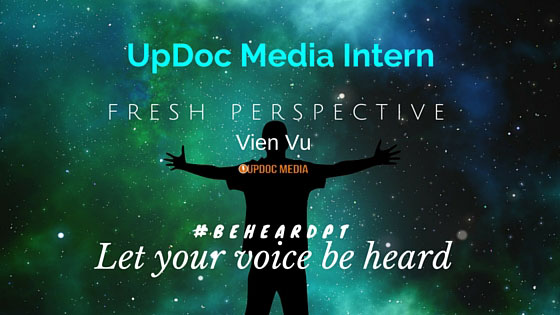 Today's Fresh Perspectives post, comes appropriately, from one of our inaugural UpDoc Media Interns, Vien Vu. You can find in on Twitter @MuyVienSPT , and, on his website HowFitWorks.com.
For more about our interns, check out this video:
UpDoc Media's Inaugural Interns (2016)We are pleased to introduce Vien Vu & Michael Mash as UpDoc Media's inaugural interns. Look forward to some big things coming from them in the near future! #PhysicalTherapy #BusinessInternship #MarketingInternship #DPTstudent

Posted by UpDoc Media on Monday, July 11, 2016
And, without further ado… here is a post from Vien upon embarking on this internship!
---
Hey everyone,
I got an internship!…During PT school…while working another job…while doing community service…and trying to brand myself! Yes, I'm busy and no, this internship isn't required for school I just really care about this, and want it for MYSELF. I want to put in a lot of work for this company because I know it will benefit my life goals and my personal skills. I got an internship with Updoc Media, and will get to impact the physical therapy profession in both small scale and large scale!
A few months ago, Ben Fung announced an internship position over Twitter, and I knew I had to join. I only found out about Updoc Media last Fall since my professor, Dr. Todd Davenport, raved about Twitter (look what happened after all). As we all know, Ben and Updoc are huge in helping the physical therapy profession by assisting new grads, clinics, and profession advocacy. I knew I had to be a part of this because they have an end goal that everyone should have: working so hard at what you are passionate about, in order to pay it forward after you succeed (and set new goals of course).
Ben actually told me he did not at first have an exact idea of our responsibilities, but my intent to join did not waiver one bit. Not only would I learn a lot, but I'd like to think I have the exact traits they wanted: experience with small businesses, love sales, data-driven, spreadsheet obsessed, lack of sleep, gritty, wanting to be a resource for others, and true love for this profession. I don't have to do the work they give me, I GET to do the work. I love this stuff! When Ben emailed Michael Mash and I, I was ecstatic that I got the position. I was also happy to know Michael Mash would be by my side since he is so hard working and produces good content.
Well now that you know the process, here's what I'm looking forward to…I HAVE NO IDEA! I am already learning so many things from the guys behind Updoc media, that I can't fathom what else I will get out of this. I don't know my specific wants, but I do know I will absolutely be smarter in marketing, business, technology, and figuring out what makes people really care. I know this because Mike and I ask so many questions when we get assignments. I am positive this experience will help me manage a business, listen to both my colleagues' and patients' wants, and how to spend my time efficiently. I get to learn what no other student gets to learn in any PT school. That alone is enough to join this team, and I highly suspect I will learn even more.
As of right now, I'm really happy with everything, and I'm learning a lot even though many specifics remain unclear. I just know I'm enjoying it all, and pretty sure a few months from now I'll age a few years but will influence this profession in one way or another. And, that's perfectly alright with me. I hope to help and meet you all soon.