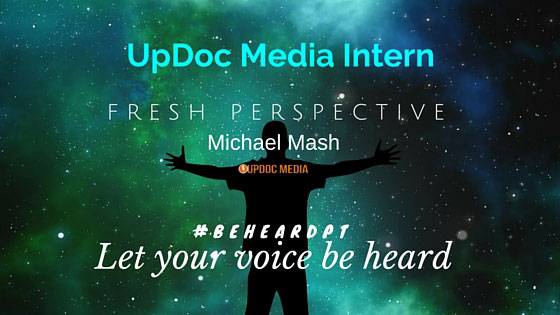 Today's post comes from inaugural UpDoc Media intern, Michael Mash. For more about our interns, check out this video:
UpDoc Media's Inaugural Interns (2016)We are pleased to introduce Vien Vu & Michael Mash as UpDoc Media's inaugural interns. Look forward to some big things coming from them in the near future! #PhysicalTherapy #BusinessInternship #MarketingInternship #DPTstudent

Posted by UpDoc Media on Monday, July 11, 2016
Michael Mash, SPT, CSCS, FMS is a physical therapy student and strength coach located in Pittsburgh, PA. He started his company, Barbell Rehab, with the mission to bridge the gap between physical therapy and strength & conditioning by implementing more barbell lifts into clinical practice.
Twitter: @mashdpt
---
Hi! My name is Michael Mash, and I'm a physical therapy student and strength coach from Pittsburgh, Pennsylvania.  As of February 2016, I started my company and blog Barbell Rehab. With the mission to bridge the gap between physical therapy and strength & conditioning, I am PASSIONATE about providing quality content for all! There was just one problem…NEWSFLASH! I didn't understand basic business and marketing principles!
We Are a Caring Profession
The field of physical therapy is a field of compassion. We are one of the only practitioners who we see patients multiple times per week. However, in order to efficiently provide patient care, clinical practice MUST have a solid financial and marketing framework from which to operate. In physical therapy school, we are taught the clinical, professional, and patient interaction skills needed to set us up for success, and rightly so. It is paramount that in those three years we learn as much as we can about how to help people. However, I want MORE than that!
This is what led me to UpDocMedia. As a digital marketing company that focuses on content creation, website optimization, and management consulting for physical therapy businesses, I KNEW I had found a great learning opportunity. I had to start digging deeper.
Build Your Digital Rolodex
I connected with Drs. Ben Fung, Gene Shirokobrod, and Erson Religioso via social media and they were all very quick to respond. That was my first lesson in the digital world – just reach out to people! If they don't respond…so what, someone will! Build your digital rolodex!!
I soon began reading blog posts from UpDocMedia and I was truly intrigued. They provided tips on how to optimize your website, build your personal brand, and how to market yourself as an upcoming new grad! I was sold when I got my hands on The DPT Career Primer Pack. I just thought to myself – "Wow I wish I learned this in school." And guess what? The tips I learned in that video allowed me to successfully counter a job offer (yes, you CAN COUNTER as a new grad), something I wouldn't have even THOUGHT of without that.
I'm pumped to have this opportunity as an intern to truly learn with the digital marketing world is all about. Again, we all come out of school with the basic clinical skills but do we REALLY understand the business and marketing aspect of things?
What the Future Beholds
In a world where social media dominates our everyday lives, it is IMPERATIVE that whether you're a new grad, or a seasoned vet, you take advantage of it. The ability to reach consumers on a digital platform is astronomical; however, it can be difficult to navigate these waters at time. '
I found that out VERY early on when I first started my business page. What do I do? How should I post? What days and times should I post? How do I choose a title and featured image? HOW DO I ENGAGE MY AUDIENCE?
THIS is why I'm ecstatic to start this journey with UpDoc Media. These guys are leading the charge to help bring physical therapy clinics across the world into the digital marketplace, and, I have a TON of information to learn and growing to do. Full speed ahead!