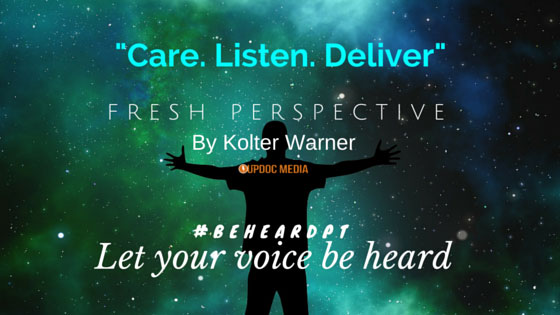 According to entrepreneur Gary Vaynerchuk, "the best marketing strategy ever…
CARE
"
One four letter word that should be at the heart of what we do as physical therapists.
It should be the foundation of every initial evaluation and treatment session; every patient encounter regardless of diagnosis, tissue irritability, functional limitations, etc.
In physical therapy school, I have heard countless times that not only should you develop strong hypotheses of PT diagnoses from the subjective portion of the exam, but that patients may tell you how to treat them. The key is…we must LISTEN.
One of the primary reasons I was drawn to the physical therapy profession was the amount of time we are able to spend with our patients. What an amazing and unique opportunity we have as health care providers. To show the patient you care:
Ask what their goals are for physical therapy
Ask what they think may help them
Summarize/repeat their subjective exam findings back to them
Ask them if you missed anything or if they would like to add anything else
It is vital to take the time to listen to your patient. Every encounter. No excuses.
In PT school, there has been a huge emphasis on developing our observation skills, but not much focus on refining our ability to listen. Listening is essential across all settings. In fact, I learned the most about the importance of listening from my last clinical internship in the acute care setting. It included not only listening to their stories but going above and beyond to ensure overall comfort. For example, asking the patient if there was anything you could do for them before leaving the room. Sometimes this meant getting more water, an additional blanket, or finding out information from their nurse. Other times it involved discussing the patient's PREFERENCE when discharge planning and not just simply making a recommendation in the patient's chart.
For patients with prior physical therapy experience, it may be your job to reframe what we do as PTs. For other patients, you will be setting the stage for what our profession is about and how we can help facilitate healing. In addition to being an excellent marketing strategy, it will likely lead to better outcomes. However, it is about more than that. It's about doing the right thing. It's about genuinely caring.
I believe Jeff Moore said it best during one of his #PTonICE Periscopes:
"We don't fix people. We help people fix themselves."
Step 1.
1a. CARE
1b. LISTEN

Step 2. DELIVER
---
About Today's Contributor: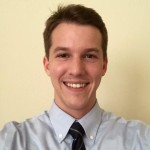 Kolter Warner is currently in his final term of PT school at the University of St. Augustine for Health Sciences in St. Augustine, FL. A Louisiana native, he earned a B.S. in Kinesiology from Louisiana State University. When not preparing for the NPTE he enjoys running, playing guitar, and reading. Following graduation, he plans to begin his PT career in the outpatient orthopedic setting. To learn more, follow him on Twitter @kolter_warner.