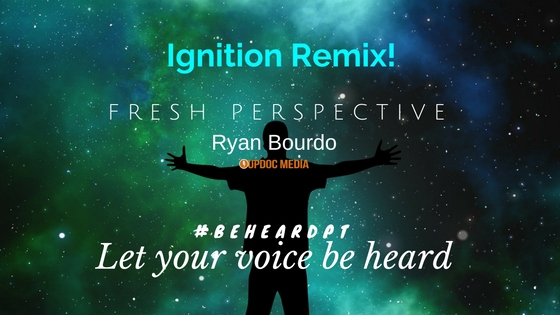 For today's Fresh Perspectives, Ryan Bourdo returns after surviving year 1 of Physical Therapy School! You can find his 1st piece
"I got in! Now what?"
So, without further ado… take it away, Ryan!
---
Welp, it's official. I survived year one of PT school. At this time, I thought I would be reflecting on the past year and how much I have learned about the profession, but really what has been on my mind is how I got here. Because the path I took is absolutely why I have so much passion for this profession. Funny thing is, physical therapy was not even on my radar three years ago.
Coming into college, I absolutely knew I was going to be a doctor. Wasn't even a question; my birthday is on "National Doctor's Appreciation Day" for goodness sake! Everything I did was geared towards getting into medical school. Double major in biology and human physiology, working in the university health center, shadowing doctors, on and on. Sure there were red flags along the way, like how I only enjoyed the sports medicine doctors I shadowed or absoluting hating our pre-med club, but it didn't matter. It wasn't until I failed to get into medical school, twice, that I thought that maybe this doctor thing wasn't going to work out. And it crushed me. Hard. That first year after college I felt like a failure everyday. Dramatics aside, I knew that bartending at a bowling alley wasn't my true calling and so I set off to figure out what I wanted to do with my life.
I interviewed anyone I could in the fields of biomechanics, exercise physiology, and coaching. I had the bones of what I wanted in a career as I enjoyed biomechanics in college and anatomy is still one of my favorite classes of all time but I just couldn't figure out what I wanted to do. After telling my story for the countless time, one researcher at Nike told me to check out physical therapy. I wanted to go into research, but sure why not? Holy. Shit. It took one patient, the very first physical therapy patient I observed, to have everything slam into perspective. I cannot stress this enough, I heard an audible *click* go off in my head. I found a physical therapy aide job a month later and now I am here.
It has been easy to get bogged down in the mire that is year one of PT school (re: medial lemniscus) but something this summer clicked once again in my head. I fucking love physical therapy. I have five years of stress, feeling like crap, and angst to convert into raw unfettered passion. And I am not going to stop. Because I finally found my calling. And there is no goddamn way I am not going to be the best at it.
---
About Today's Contributor:

Ryan Bourdo graduated The University of Oregon with B.S. Degrees in Biology and Human Physiology in 2010. Originally thinking of medical school (nevermind the fact that medical school rejected him twice), he soon fell in love with physical therapy, thanks to an amazing therapist in Portland, Vince Blaney, MSPT. Vince showed him everything he originally wanted to be as a physician: using anatomy and physiology to help those with injuries. He soon worked as a physical therapist aide for two years and is currently at Regis University completing a Doctorate of Physical Therapy. In his free time, Ryan likes to run, boulder, and cook. You can find Ryan at www.ryanbourdo.com, on Twitter @RyanBourdo, or email him at bourdo.ryan@gmail.com.