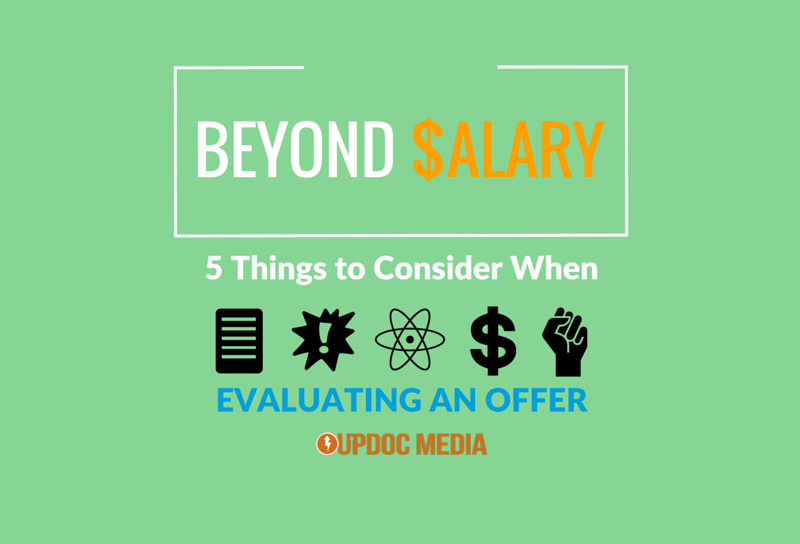 Today's guest post comes from Will Butler, Physical Therapist turned Financial Planning Extraordinaire, covering a truly important topic, the employee compensation package beyond the cash incentive. This is a jam packed post with knowledge bombs left and right. So, let us not waste anytime.
Take it away, Will!
---
Beyond Salary: 5 Things to Consider When Evaluating an Offer?

By Will Butler, DPT, a Northwestern Mutual Financial Representative based in Beavercreek, OH
You pour yourself your first cup of coffee and optimistically tap into your inbox. There it is, the job offer. We have become preconditioned to look at one line in the offer – the salary. While the salary is a critical component, it is vital that we consider the whole benefits package. The overwhelming amount of information combined with our excitement to sign on the dotted line makes it easy to overlook its full potential.
If you're a new grad, attention to the benefits package is especially important because you won't have as much flexibility in the initial salary offer. However, if you understand the whole offer you can negotiate a deeper compensation package with additional benefits such as paid time off (PTO) and continuing education units (CEUs) – which are worth real money. Whether you are pursuing your first job, or like many in our generation, simply finding the benefits package to be the most confusing part of the hiring process, knowing what to look for and consider can be a shorter learning curve than you might realize. Here are a few questions to ask your employer to guide you through your latest offer.
How much PTO is being offered?
Simply, time = money. Ask yourself, "Will this afford me the time off to achieve a healthy work/life balance?  Ask your employer questions like, "Can I buy more time if I need it? Or if I don't use it can I cash it out?" This is your opportunity to get specific with questions like, "Will my PTO need to be used for CEU courses or is it separate?" Again, time is money.
How does continuing education work?
Think of CEU as tax free money. It is easier for the employer to negotiate on education money because there is a direct correlation to the return on their investment. If you gain more knowledge theoretically, you'll be better at your job; patients become healthier and happier, and therefore you generate more value. Look into negotiating time off for your CEU that won't count against your PTO. Also consider negotiating tuition reimbursement for CEU. No matter what, you will need to obtain CEU credits but it could mean one less item to consider in your budget.
What type of Health Benefits are available with my package? And should I opt into them?
Here, your magic number is 26. The Affordable Care Act allows young adults to remain on their parents plan until the age of 26. So, if you are younger than 26, evaluate your parents plan and compare it to the options your employer has. Knowing what you need your health insurance to do for you is important. Do you go to the doctor often? If the plan is a high-deductible plan, ask about HSA and FSA options. If you are older than 26, consider major life changes that might happen in the near future such as your marital status and whether you plan on starting a family?
Is Disability Insurance apart of that benefits package?
Our most important asset is the ability to earn future income. This is not an asset many of us can afford to lose. Which means protecting our ability to earn future income should be at the top of your list when beginning the process of understanding your benefits package. As millennials we have the, "this can't happen to me," mentality about the chances of becoming disabled, but the reality is quite different. According to the Social Security Administration, 1 in 4 of today's 20-year-olds will become disabled before they retire.1 In December 2012, more than 2.5 million disabled workers were in their 20s, 30s, and 40s.2  Ask yourself, "Can I live on 50-60% of my income?" Make sure you know if there is a waiting period to enroll after you are hired and ask if the plan is employer or employee paid. Have a good understanding of their definition of disability for your position and know, if your emergency fund built up enough to cover 6 months of loss.  If you are a female in your field, ask if it will cover maternity leave. Remember the greatest asset you have is between your ears and the ability to train your body to perform. These are worth far more than your car or your phone but we often insure those without thought.
Am I able to start saving for retirement?
Deciding whether or not to participate in the company's 401(k) plan can be difficult when considering school debt and the cost of living.  Anytime a 401 (k) plan is offered it is important to participate because of the company's match. Nearly 40% of 20-29 year olds are contributing at a level that is below the company match threshold and are losing long term savings because of it. 3 Finally, don't be afraid to consider options outside of your employer sponsored plan with a financial professional, to ensure the best possible savings strategy in order to reach your overall financial goals.
Understanding your benefits package and utilizing what your employer can offer you, can make a huge difference in achieving your financial goals. These questions are just the tip of the iceberg when it comes to understanding your employer's benefits package. Seek out educated and passionate people to guide you through this process. Your first step is to consult with your HR Director or Benefits Administrator. They are going to be able to provide you with all the necessary options that need to be considered. Build a relationship with a financial professional, who will help you plan out your financial goals. When you are focused on helping your patients instead of making money and playing off your loans, you will be a much more successful professional. Everybody wins.
1 U.S. Social Security Administration. Fact Sheet. February 7, 2013.
2 U.S. Social Security Administration. Disabled Worker Beneficiary Data. December 2012.
3 Employee Benefit Advisor. How Advisors can engage millennials to maximize retirement savings. November 2014.
Article prepared by Will Butler with the cooperation of Northwestern Mutual.
Will is a Financial Representative with Northwestern Mutual, the marketing name for The Northwestern Mutual Life Insurance Company (NM), Milwaukee, Wisconsin, and its subsidiaries.  Will is an Insurance agent of NM based in Beavercreek, OH.  To contact Will, please call (937) 427-7120, email him at william.butler@nm.com or visit his website at williambutler.nm.com. You can also follow him on his Facebook page: William Butler NM.
---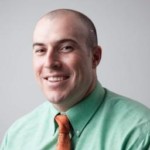 Will is a physio by training and practices financial planning by choice. He is motivated by human potential & past misfortune. He received his DPT from the Univeristy of St. Augustine. He enjoys few things more than Ben & Jerry's ice cream, helping clinicians with financial planning is one of those things. He values humor, knowledge, and building lasting relationships.