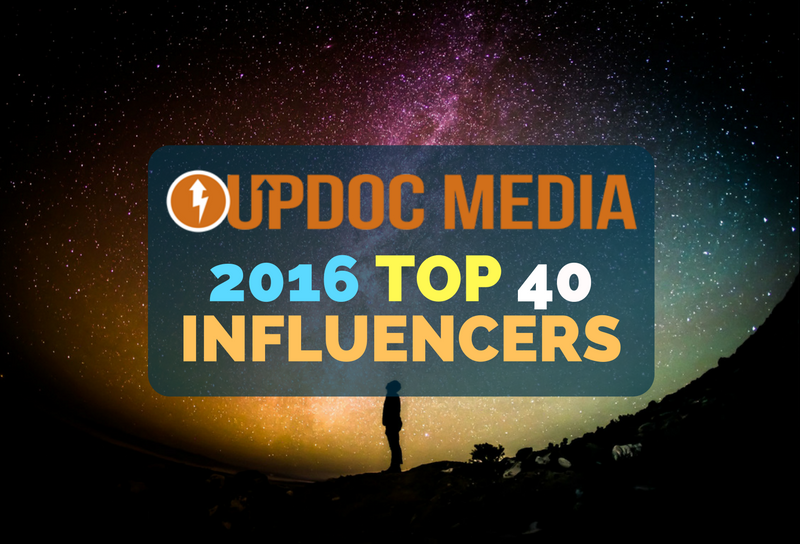 2016. It's been a crazy year. There have been a lot of changes, opportunities for growth, and challenges to overcome. It has also been an excellent year in the physical therapy world for rising stars and well established influencers. We at UpDoc Media have a unique ability to engage and monitor engagement. Over 2016 we tracked people, businesses and everything in between in the realm of physical therapy. Based on our data as well as voting from you we came upon our list of Top 40 Physical Therapy Influencers. And, so…! It is our pleasure to share with you our 2016 Top 40 Influencers list by the categories of Clinical, Business, Fitness, and Media.
Let's begin!
---
2016 Physical Therapy Influencers
Clinical
In the clinical category, stars have risen this year! Amongst these rockstars are personalities such as Dr. Jeff Moore with his regular #PTonICE broadcast, Tracy Sher representing the #PelvicMafia, and, the PT Reviewer himself, Rich Severin. This dynamic group has truly generated thought leadership this past year for clinicians of all backgrounds, seasons in career, and more.
Jeff Moore
Dr. Jeff Moore is a dynamic teacher, a faculty member at Evidence in Motion, and founder of The Institute of Clinical Excellence. Known for his high energy live broadcast called #PTonICE, he is also a mentor to students, fresh grads, and even established professionals via PT Masterminds.
Erson Religioso
Known as "Dr. E" the Manual Therapist, Dr. Erson Religioso has spread his influence as our Therapy Insiders podcast co-host, as an international educator in manual therapy, and ultimately in establishing Modern Manual Therapy as a channel for both virtual and live seminars around the world.
Tim Flynn
Dr. Timothy W. Flynn, PT, PhD is a name in the world of physical therapy that requires no introduction. Not only is he world renown for his clinical, research, and academic contributions, he's a regular icon on podcasts, interviews, and conferences everywhere!
Eric Robertson
A fellow lover of coffee, Dr. Eric Robertson is the director of the Kaiser Permanente Northern California Graduate Physical Therapy Education program and Clinical Assistant Professor at the University of Texas at El Paso. He is also the founder of PT Think Tank, a blog dedicated to critical observations about health, science, and the world of physical therapy.
Tracy Sher
The pelvic floor. Everyone has one. Tracy Sher the Pelvic Guru is sure to ensure, you are sure, with yours. Beyond being a highly recognized pelvic clinician, Tracy is also a big name in women's health, men's health, and sexual health, removing not only the classical stigma but promoting it for its awareness and importance throughout the human experience.
Jessica Schwartz
PT 2 Go's Dr. Jessica B. Schwartz PT, DPT, CSCS is one of the few clinicians in the world who can say, "I've been there." Having personally experienced a concussion, Jess is your go to gal for all things post-concussion and concussion awareness. Check out her episode on the Therapy Insiders podcast! In 2016, Jess, in partnership with EIM launched a concussion residency program that is sure to be a game changer.
Richard Severin
They call him the PT Reviewer. Dr. Rich Severin is CVP specialist DPT & PhD Student at the University of Illinois at Chicago. Known for coining the hashtag #VitalsAreVITAL, Rich is a big influence on clinical excellence & is also giving a talk at APTA's Combined Sections Meeting on the importance of social media in physical therapy practice in 2017.
Adam Meakins
Known as The Sports Physio, Adam is a no-joke, all-science clinician with a special emphasis in pain science, and, management of the shoulder and upper limb. Also known for his strong opinions, he isn't afraid to go toe-to-toe with anything unscientific; and, he isn't above the trampling of pseudoscience. Regardless of how he comes across, you can bet that his opinions are well backed by research.
Greg Lehman
As both physio and chiro, Greg brings a truly unique perspective to the world of Rehabilitation, Biomechanics, and Strength & Conditioning. Able to bridge the gap between biomechanics and pain science, Greg also has a special interest in the running athlete. In 2016, Greg's popular course Reconciling Biomechanics with Pain Science was often talked about and referenced by the physical rehabilitation community.
Chad Cook
Dr. Chad Cook, PT, PhD, MBA is a physical therapist, researcher, and professional advocate. Chad has authored three textbooks, has published over 165 peer reviewed manuscripts, and lectures internationally on orthopedic examination and treatment. You can find on Twitter @chadcookpt.
---
Business
Business awareness, competency, and even general interest is at an all time high within the physical therapy community. Whether your taste for content is cash oriented, corporate scaling, career acceleration, or elevating patient experiences, these 2016 influencers have continually delivered useful content for audiences of all interests in business excellence.
UpDoc Media
Originally founded with the tagline, "The Content You NEED To Know, Delivered With Clinical Precision," UpDoc Media is dedicated to consistently delivering excellent content in business, marketing, and career acceleration both within physical therapy and in the grander scope of the marketplace. Through the delivery of Digital Marketing & Media Productions services within healthcare, UpDoc Media has been repeatedly highlighted as an authority of content marketing for business growth by private and public facing entities, including that of the APTA's Private Practice Section.
Evidence In Motion
EIM & Confluent Health are always winning awards, both in clinical and business excellence. With a legendary team, including influencers already listed above, EIM provides cutting-edge programs, research, resources, and training to the world's community of practicing rehab professionals. In 2016 EIM launched two podcasts, grown their residency and fellowship programs as well as acquired Kinetacore. Not a bad year.
WebPT
While dedicated to bringing you the very best in rehab EMR solutions, WebPT is so much more than a software company. Purposed to empower the rehab therapy community to achieve greatness in practice, WebPT has expanded to being a champion of the profession — even hosting its own Rehab Business Summit known as #AscendEvent. In 2016 WebPT continued to grow exponentially to the point of needing to move to an entirely new building. Much, much larger building. Oh, and they hosted AOL co-founder Steve Case and his Rise of the Rest tour. Oh! And, they hired a new CEO. Oh! AND, they were named to the INC 5000 list.
Jerry Durham
PT personality & business owner, Jerry Durham, is a true champion of the patient experience. With a passion for the business solutions available to the profession and healthcare at large, you can hear more of Jerry's thoughts on his podcast Healthcare DisruPTion.
Paul Gough
This nurture funnel king is known for his accelerators via the PT Profit Academy. His methods have been fully demonstrated as successfully competitive against "free" national health systems. Ultimately, it is value PT businesses must bring and Paul teaches owners how to do that while building a healthy bottom line.
Greg Todd
Greg is dynamite! Yes, that is our opening intro sentence with Greg and we hope he approves. With the personality to bridge cultural gaps within the profession, Greg is a consultant, educator, entrepreneur, and mentor. Known for his platform, the PT Builder, Greg openly shares his success, his lessons, and wants only the best for students, new grads, and his fellow PTs.
Mike Eisenhart
Mike Eisenhart is a leader in the physical therapy profession having held posts at the local, state and national levels for the American Physical Therapy association, the nation's largest professional association for physical therapists including the role of President of the association's NJ chapter from 2015 to 2017. Known for his campaign against chronic disease, you can find out more about Mike's efforts at Free The Yoke.
The American Physical Therapy Association
The leadership of the APTA has truly turned over a new leaf this past year. CEO Justin Moore and President Sharon Dunn have made strides in forming a national association that is more accessible, transparent, and relatable. After all, the APTA is a multi-million dollar non-profit organization. If that doesn't spell business, I don't know what does. Moreover, 2016 proved to be a year that the APTA leaders not only spoke of change; they became the change — inviting over for the 1st time ever, an outside media source into their headquarters in Virginia & shifting their own channels into a more agile, live stream, social media oriented approach.
Aaron LeBauer
Founder of the very dynamic social group, Cash PT Nation, Aaron has grown a community from a handful into to over a thousand at an impressive rate. Aaron has regular Cash PT Lunch Hour's and has empowered many to jump off the deep end and go cash with extraordinary success.
Entropy Physio Courses
Hosted by the dynamic duo, Sandy Hilton & Sarah Haag, Entropy Physio offers not only the best in clinical education, they also represent for top quality business practices within the private practice sector. Based in Chicago, Sandy and Sarah are not only business educators, they are also great mentors.
Fitness
Fitness is a viral thing. People love the idea of best health and an optimal human experience. Leading the charge in forging the links between physio, strength & performance are names such as "K-Star," The Prehab Guys, Dr. John Rusin, and #FreshPT Mitch Babcock the Unchained Physio.
Kelly Starrett
Known as K-Star and The MobilityWOD program, Kelly Starrett is a fitness icon, physio, and best seller who has been featured on Men's Fitness, the View, The Washington Post, Men's Health… just to name a few. He is one of the few Twitter verified physios out there & also jumped on for two record breaking podcast episodes with Therapy Insiders, "Running with a Supple Leopard" and "The Future of Physical Therapy and Fitness."
John Rusin
You want strength? You want it from a doctor? That, is why we have Dr. John Rusin. Featured on BodyBuilding.com & T Nation, John is a huge name in the fitness and strength world. His approach is fast, effective, and is widely known as Functional Hypertrophy Training. In 2016, John launched several new programs as well as had a successful run with The Strength Doc physio podcast.
Mitch Babcock
Fresh PT, Dr. Mitch Babcock is otherwise known as the Unchained Physio. Blending the best in athletics, strength, FMS/SFMA, MobilityWOD, and physical therapy. Mitch identifies as both a physio as well as a movement coach who facilitates healing. In 2016, Mitch showed impressive social media growth as well as setting out as a business owner. 

Zach Long
Another rising star in the space of physio meets fitness, Dr. Zach Long is known as the Barbell Physio. So very often, physical therapists start to lose the gap as our patient populations get stronger and stronger; and, it isn't hard to argue that lifting barbells makes you strong. Combining a clinical approach with strength in mind, clinicians can easily get over the classical fears and stigmas of applying strength training principles to patient populations.
Quinn Henoch
Quinn Henoch is a Doctor of Physical Therapy, coach, consultant, student, writer, speaker, and competitive weightlifter. Quinn is the head of rehabilitation for Juggernaut HQ and Darkside Strength, and is known as the founder of ClinicalAthlete.com.
Johnny Owens
Johnny Owens is former Chief of Human Performance Optimization at the Center for the Intrepid (CFI), which is part of the SAMMC–Department of Orthopaedics and Rehabilitation (DOR). In the space of fitness and human performance, Johnny is one of the biggest names in Blood Flow Restriction Training. Johnny and his company have expanded this year with multiple professional sports teams among others integrating BFR.
Scotty Butcher
A co-founder of BOSS Strength Institute now Strength Rebels, "Dr. Scotty" is an educator, physical therapist, coach, and researcher. Doctor of what? How about a PhD in Experimental Medicine and Exercise Physiology. Yup, Scotty Butcher is literally a doctor of exercise meets medicine. Practicing what he preaches, Dr. Scotty is an avid strength trainer, conditions with HIIT, and currently dabbles in powerlifting and CrossFit. Find Scotty on Twitter @InkedProfScotty
Ryan DeBell
Ryan DeBell & the Movement Fix brings a series of workshops, videos and a website discussing movement and how it relates to CrossFit and functional fitness. Ryan is a big proponent of breaking down the anatomy into the clinical purpose of specific movements, exercises, stretches, and drills with the aim of conquering mobility restrictions and dismissing dysfunctional movement patterns.
Chris Johnson
Ironman, Chris Johnson, is well known in endurance athletics and running. As an author, speaker, mentor, and educator, Chris is not only an accomplished athlete himself, he has been a Triathlon Coach, professor, and medical consultant to the New York Rangers. In 2016, Chris also launched a new app called Run Cadence.
The Prehab Guys
Talk about rising stars, the Prehab Guys are (currently) #DPTstudent(s) who are taking us all to school! With a viral following, nearing 90k on Instagram alone, these Doctor of Physical Therapy Candidates are also Strength and Conditioning Specialists who will graduate from the University of Southern California next year (2017). Why have they gone viral? Answer, their mission: "Optimizing human movement and performance, promoting longevity, and keeping your movement system in tune. Instilling new meaning into Physical Therapy."
---
Media
2016 has seen an incredible rise and growth of various media options in physical therapy. From podcasts, to blogs there has been no shortage of valuable content. These influencers have seen growth and made an impact in 2016. 
Therapy Insiders Podcast
Yes, it may be a pat on the back because TI podcast is part of UpDoc Media, however the growth has been undeniable. Over 300k downloads, top 10 on iTunes, world-class guests and steady engagement from multidisciplinary fields, TI has grown significantly.
PT Pintcast Podcast
Hosted by Jimmy McKay, a recent physical therapy graduate, Pintcast has matured in it's second year. From an eclectic guest list to highly polished final product, Pintcast has produced quality and valuable episodes week in and week out.
Healthy, Wealthy and Smart Podcast
A versatile, informative and eclectic podcast hosted by Dr. Karen Litzy. HWS podcast has spanned a variety of topics from pain science to entrepreneurship with renowned guests.
Mike Reinold Show
Started in 2016 by Mike Reinold, the podcast and video show has quickly become a fan favorite and must-see. Mike is joined by his crew, which includes Champion PT co-founder Lenny Macrina, in sharing clinically relevant material in a concise and funny chunks.
Senior Rehab Project
Rolling into it's second year, SRP podcast also has rolled into it's own. Hosted by Dustin Jones, the podcast focuses on empowering the elderly with the slogan "Old not Weak."
Untold Physio Stories
How easy is it to talk about success? A lot easier than talking about the lessons from failures. The UPS podcast, hosted by Erson Religioso and Jason Shane, focuses on the stories not typically heard. In it's first year the 10 minute or less stories have resonated with many of you.
The Physio Matters Podcast
Clinically focused and real world relevant, the PM podcast doesn't skimp on info. Hosted by Jack Chew on the other side of the pond, the PM podcast has seen crossover appeal by focusing on clinically relevant, evidence-based topics in an unapologetic manner.
The Doc and Jock Podcast
Fitness, strength and conditioning with a touch of healthcare, the Doc and Jock podcast is a go-to for many.  Hosted by Danny Matta and Joe Szymanek, the podcast continues to gain attention and recommendations.
New Grad Physical Therapist Blog
Physical therapy school is tough. Making time to learn outside of school is even tougher. Then you can understand why New Grad Physical Therapy blog has grown this year. It provides valuable information on a variety of topics to DPT students in an easy to follow and most importantly relevant manner.
Body in Mind Blog
Pain science as a topic and treatment approach has seen continued growth in 2016. Lead by Lorimer Moseley, the BIM blog, is often cited and referenced as the place to go for pain science information.
As wild as 2016 has been, we are PUMPED for the sheer opportunity which lies ahead in 2017. We can't wait to see the influencers that emerge in 2017 to help drive the physical therapy and healthcare field forward.