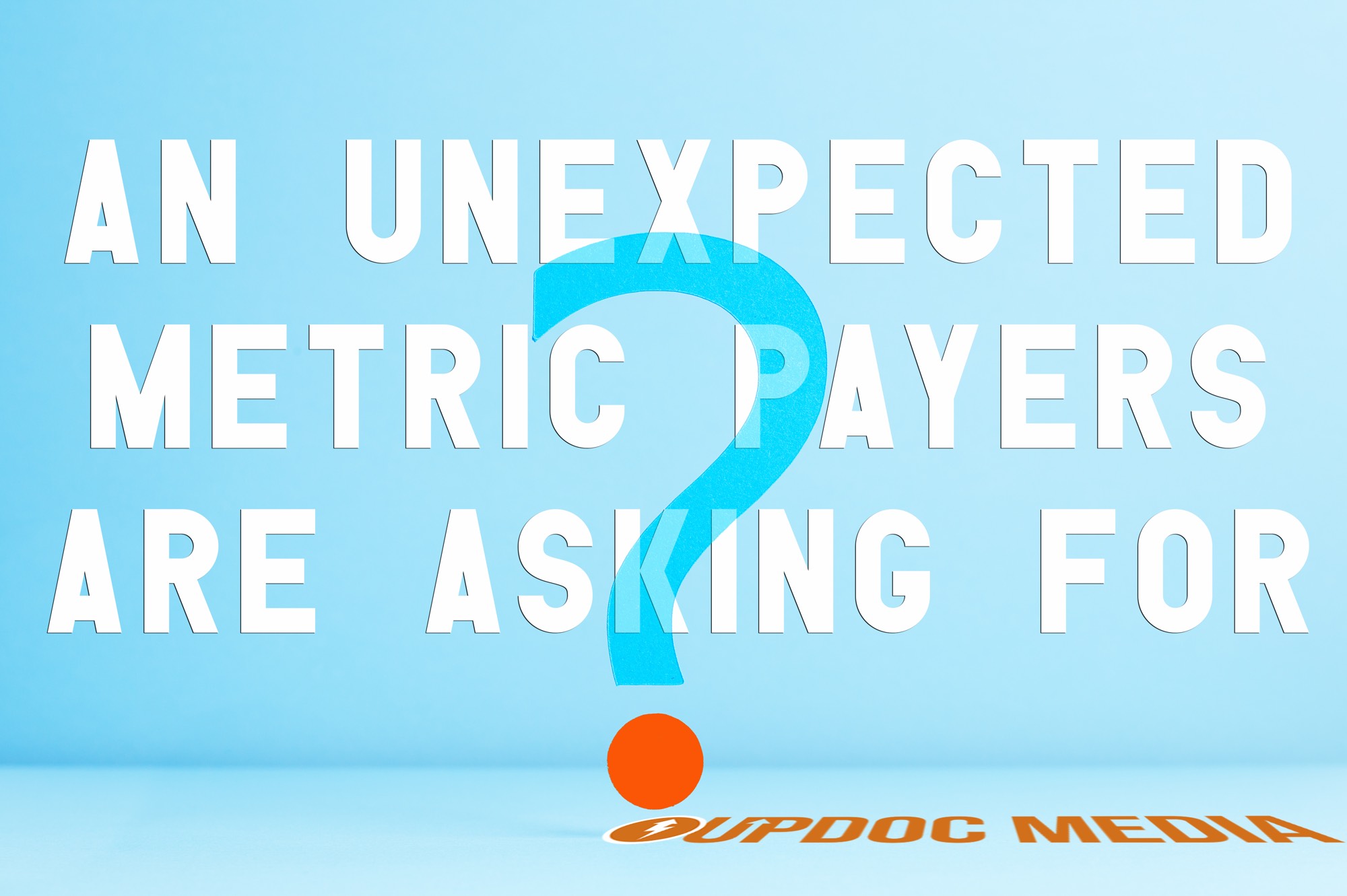 Author: Ben Fung, Chief Operating Officer
---
It's December. And, it's insane to think that Fall conference season was but a few weeks to a couple months back & that CSM 2019 is just a month away.
Nevertheless, as I was thinking about all the conversations, content, and insights… a somewhat subtle theme revealed itself as it rose up — distinctly different than that of the "popular" topics… something that most healthcare businesses don't always like to think about: Payers. (or, "Payors"… depending on your preferred spellcheck software)
It was on this topic that my thoughts led me to realize that many discussions have been revolving, but not directly addressing this severely importance piece of the healthcare puzzle — especially the evolving value based environment that will soon become universal. It's not resource utilization, dollars billed for, or even clinical outcomes.
This unexpected metric really represents a family of metrics within an otherwise under-attended aspect of the healthcare consumer experience; an aspect for which most providers and companies assume they are generally performing well in.
It is this assumption that is dangerous; and, it is this assumption that has caused Payers to ask specifically for objective measures to back the claims. What is this metric??? Well….! ? ⬇
---
An Unexpected Metric Payers Are Asking For
Net Promoter Score. Net Promotor Score, otherwise known as "NPS," was created by Fred Reichheld, Bain & Company and Satmetrix. Ultimately, the NPS is an evidenced based objective measure that gauges customer loyalty and the likelihood of them recommending your brand to a friend or colleague.
Using the NPS is a great way of measuring overall satisfaction; and, it also creates a touchpoint by which companies can further engaging in conversation to survey the overall customer experience across any given product or service line.
Of course, there are issues with any objective measure, even that which is validated and evidenced based. First, the NPS doesn't directly take into consideration cultural context and valences. In regions with distinct pockets of cultures, the NPS as well as other objective measures in customer satisfaction — may fall short in capturing some of the narrative elements which lead to higher, lower, or middle scoring results. What may occur can actually be an under-representation of high satisfaction or over-representation of dissatisfaction. The NPS is also relatively one dimensional as it only asks a singular question.
Nevertheless, in our applications of the NPS, it remains one of the more reliable tools for marketing, and, more commonly asked about metrics by payers. If you're interested in getting to know about surrounding techniques to determine customer satisfaction, AND, gleaning a steady stream of 5 star reviews — we've got a training resource for that!
This training resource teaches email marketing & customer satisfaction on a step by step, click-by-click basis on how to get your NPS from your customers.
Okay… the "NPS." What Else Then?
Outside of the NPS, there are two other metrics within the family of customer experience and customer satisfaction that are evidenced based and otherwise validated. In no particular order, they are the Customer Effort Score (CES) and the Customer Satisfaction Score (CSAT).
The CSAT is commonly shown as a percentile of satisfied to dissatisfied customers after customers rate their experience from 1 – 5; the responses vary from 1 being "Very unsatisfied" and 5 being "Very satisfied." The strength here is that you can use this scoring system to ask a variety of questions. The weakness is that this survey has been shown to be less engaging for those in the middle ground within their customer experience; therefore, the CSAT primarily gleans the extremes of super happy and super grumpy customers. One last note regarding the CSAT: Unlike the NPS, the CSAT is not reliable when it comes to brand loyalty and repeat purchasing behaviors.
As for the CES, this survey is used to measure the level of effort that a customer had to put forth to have their "job to be done" solved by hiring or buying your company's product or service. If it was a painful shoulder, prescription refill, or question they had — how easy or difficult did your company make it on your customers in having that problem solved? This metric is excellent for parsing out the customer experience as a pathway or within a specific sequence. However, it doesn't necessarily address the resolution of the problem, end result of the service, or performance of a product. It also has a response variance much as the CSAT does where the volume of customer response types gives behavioral insight as much as the actual scores do — a double edged sword.
In The Context Of Value Based Healthcare
Value Based Healthcare: Happy, healthy patients — kept as far from the health system as possible, bringing optimal value back into the greater economy by not spending "unnecessary" dollars within the health system at large. Or, at least… that is but one take out of the 94582812 definitions of value based healthcare.
REGARDLESS of definition, one thing is certain: Payers are looking into Customer Satisfaction, and, are specifically asking for evidence supporting your claim that your practice's clinical care pathways offer healthy outcomes AND satisfied buyers of your products and services. No doubt, this will come in conjunction with customer reviews and company reputations as the "open market" of consumer behaviors will necessarily be congruent with company sent, private surveys. After all… if your practice boasts a score in the 90s on average for the NPS, but publicly only have 2.3 stars on My Google Business…. then, there's a big problem, one which Payers aren't likely to let slide.
For this, we built out a marketing automation bot that helps you dive into online reviews you may not know you even have. This will help you get a good baseline of where you are, and, combined with the training above — will give you guaranteed 5-star reviews moving forward!
Investigate Your Reviews & Get Your Free Reputation Report
---
Additional reading: