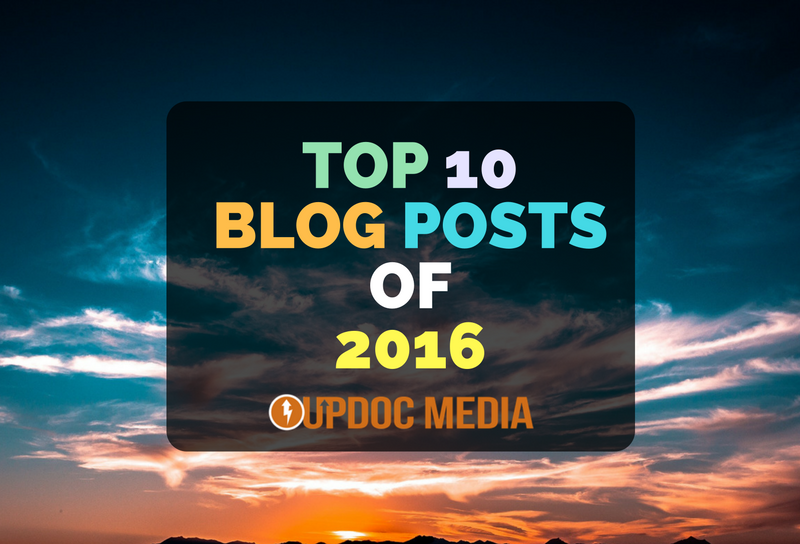 Last year, we were honored to share with you our Top 10 Blog Posts of 2015. And, now… we are pleased to share with you our Top 10 for 2016! Let's go!!!
---
Top 10 Blog Posts of 2016
1. 3 Positive Culture Shifts PTs Need To Make
Mirroring the honorable mention 3 Ugly Truths We NEED to Change about Physical Therapy, this post dives face first with no shame and no holding back on the obvious issues staring us in the face. While nothing is particularly new, this post garnered our top metrics in reach and engagement due to the solutions brought forth in changing the culture, the advocacy, and the management of physical therapy professionals in a way where excellence becomes an incentivized, encouraged, as well as the very embodiment of our professional expression.
2. Productivity vs. Production
While this post was released far earlier in the 2016 calendar year, it obviously resonated throughout the year, being in our #2 spot. From students to new grads to established veterans, everyone is up in arms against ridiculous productivity standards and any type of "mill" approach. This post struck a chord with the physical therapy community as it offered starting points in approaching the business of physical therapy the "right way." Later in the year, an installment of the UpDoc Media Business Collection would cover Value Based Pay; a true application on how to manage for production rather than harping on insane productivity standards that does nothing more than create short term gains for long term losses.
3. 5 Ways to Accelerate Your Physical Therapy Career
Leading up to Combined Sections Meeting 2016 (check out the Conference Recap & the #APTACSM California Love perspectives), numerous requests lead to the release of this piece — centralizing on the critical need for physical therapists to be more and to do more. As such, this post lays out five actionable steps to become the next generation embodiment as the physical therapy professional tomorrow, today.
4. The Ultimate Student Resource Collection (2016 Edition)
After an exhilarating APTA NEXT Conference (Recap HERE), popular demand lead to the creation and release of this post; putting all of the best UpDoc Media resources to date… all in one place. Highlighted here are the very popular #PTJobMarketPulse as well as The DPT Career Primer. For the rest, you're just going to have to click on that link and find out 😉
5. Top 5 Ways To Ruin A Company
Culture matters. According to our 2016 DPT Talent Acquisition Report, culture is #1. It's the singular deal maker and deal breaker for fresh talent in the world of physical therapy. And according to input from practice practice owners: they agree! For more on that, please sign up for the free 2016 Private Practice Human Resource Report!
6. 5 Website Flaws That Are Killing Your Clinic
As 2016 developed, we had many requests from our clients & queries to us from our audience about the website design and how it affects business, marketing, growth, etc. We were outraged to see that not only did a majority of private practice clinics NOT have a website; those that did, didn't truly own their site. In fact, MOST clinic owners had websites they thought they had control over — only to learn later that their sites were held hostage by shady web development companies. After several bouts of complete rage on behalf of our clients and colleagues, we decided to make things right by offering a website solution "for PTs by PTs."
7. 5 Reasons Content Marketing is DOMINATING Digital Marketing
There are always "hacks" in all things; growth hacks, marketing hacks, etc. However, it is the consistent things that drive long term success. In the world of digital marketing, content is that consistency. Without content, there is no substance; here is no confirmation of expertise; there is no social proof to a company's credibility… there just isn't anything at all. This posts covers the very specific ways why "Content Is King."
8. Developing Your Personal Brand
Engaged students and fresh professionals are realizing the need to stand out, bring unique value, and be bold. Again, due to popular demand, we decided to put together some strategies on how to best go about personal branding for maximum effect in building a strong start to your career.
9. The Future of Digital Marketing
Everyone is interested in the future. When it comes to marketing, businesses are typically chomping at the bit to figure out what is coming around the corner. Paired with the above mentioned content marketing piece, this post continues on the expansion of what is to come, how to prepare for it, and most importantly, what you can do NOW to get ahead of the curve.
10. Predictions for 2017 in Physical Therapy & Healthcare
Closing up our top blog post lists is our predictions for the coming year. Last year, our predictions were five for five; batting 1.000! So, this year, we upped the ante by giving you SEVEN predictions we are foreseeing to be coming down the pipe. While we feel 2017 will really build on the momentum of 2016, there are some interesting elements which may surprise you to which we feel will become game changers in the year to come.
---
Honorable Mentions
Without any order to them, we had a bunch more posts that performed highly, that you all loved, and would definitely be worthy of mention. So, without further ado… here are our Honorable Mentions:
---
We hope you enjoyed these Top 10 as much as we did. 2016 was a monster of a year for us. There was a lot of change, a lot of growth, much adventure, challenges, struggles, victories, lessons learned… and, perhaps most cherished by us… YOU — this community we have cultivated, together.
Nothing matters more to us than our audience and this community that has grown from it; from our podcast listeners, blog readers, influencers (a post, soon to come!), students, established professionals, business owners, academics, researchers, advocates, and all of you who engage with us via social media… we want to say:
Thank You!