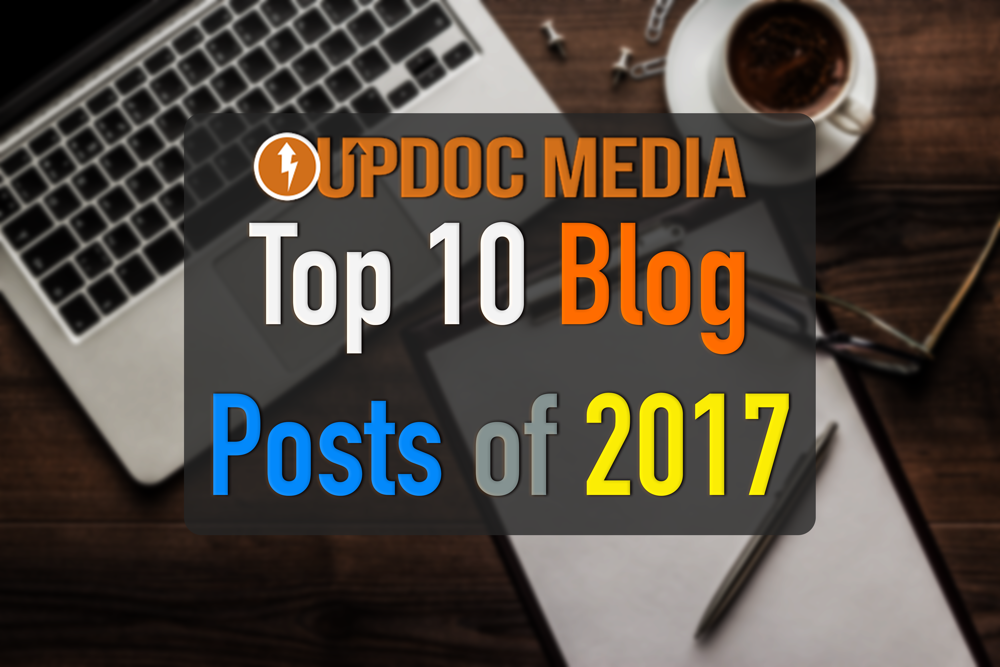 It's been a big year on the UpDoc Media blog with many posts that were inspired… BY YOU! That's right. The majority of our blog content comes from popular requests and industry based queries to help our profession prepare for trends in the coming future. So, without further ado… we are pleased to unveil the Top 10 blog posts of 2017!
---
Top 10 UpDoc Media Blog Posts of 2017
Attracting and retaining top talent has been a business frustration for ages, now. Moreover, growing that talent into a high performing team is yet another puzzle. Turnover is severely expensive, creates massive gaps in a company's supply chain, and can lead to more turnovers as a result of the additional stress placed on the system. [READ MORE]
A few weeks back we shared our perspectives on where you should be spending your marketing dollars. This post is all about what you should be now tracking, to ensure you're getting solid ROI on your marketing budget. [READ MORE]
In Summer of 2015, UpDoc Media began its journey creating "content you need to know, delivered with clinical precision." For blogs, the most popular topic at the time was: The Job Market. Since then, we delivered the PT Job Market Outlook 2.0, which turned into the PT Job Market Pulse. Soon, there were requests across the continuum of the allied rehab therapy community to incorporate data to encompass travelers, as well as occupational therapy and speech language pathology. [READ MORE]
Everything in an employee-employer relationship as well as a business-to-consumer relationship has to to with a Unique Value Proposition (UVP). The UVP equation is: UVP = Jobs To Be Done + Gain Makers + Pain Killers. [READ MORE]
So… due to a Facebook LIVE broadcast gone cray cray — titled: "Why Physical Therapists Are Paid So Little," the content in this post is here by popular request. This Know My Value PT Calculator populates your gross revenue value contribution to any given business unit.. Being that this is an older post, the calculator itself does need plenty of updating and will be updated in the near future — as mentioned in the post, this is a tool to create a frame of reference to begin informed conversations. Every market is unique, and as constantly mentioned in the Job Market Pulse, you need to approach each situation in a manner precisely geared to your regional demand. [READ MORE]
In a recent blog post, we talked about how digital media has finally reached this point of Content Clutter & what you can do about it. Combined with our discussions in Digital Marketing Pre-Launch Checklist & 5 Keys To Social Media Success, the conclusion was this: To stand out significantly in the digital marketplace, you MUST share more than "just content" — you must become excellent at storytelling. [READ MORE]
Blue Ocean" is a business term, typically inferring an area of a market, profession, or industry that is largely unexplored, untapped, or uncontested — ripe, ready, and waiting for growth. While there is always much for all of us to learn, do, and grow within the clinical settings… I believe that the future of physical therapy also holds many opportunities to be realized outside of the clinic. [READ MORE]
In the last several weeks or so, I've noticed an increasing motif in social media chatter, private conversations, etc… and, it all centralizes on bridging "the gap," linking the disconnect, and finding common grounds for mutual understanding. It's a worthy discussion to be had & it tends to be a cyclical topic. [READ MORE]
So, you've done your due diligence and are starting to create a digital marketing ecosystem. Whether you're just getting started or have a well systematized strategy, you've no doubt begun to experience this curious effect — you're starting to receive calls that "aren't yours." That's right — AND — that's how you know things are truly moving in the right direction. This is happening because all your content, your targeting factors, the design of your customer conversion journey — all in sum, has made it possible for shoppers to find you first… before they found your "competitors." [READ MORE]
Job interviews are designed to go both ways. The employer is feeling out the prospective candidate for fit, just as much as the candidate should be investigating the company as a good place to grow into. However, many interview experiences leave the candidates feeling completely out of control. After all, isn't it the company that has the power?. [READ MORE]
---
As our customary approach to the end of the year wrap up continues, keep your eyes out for:
Star Wars PT
Top Podcasts of 2017
And… just in case you missed it, be sure to check out your 2017 Top 40 Influencers of Physical Therapy.