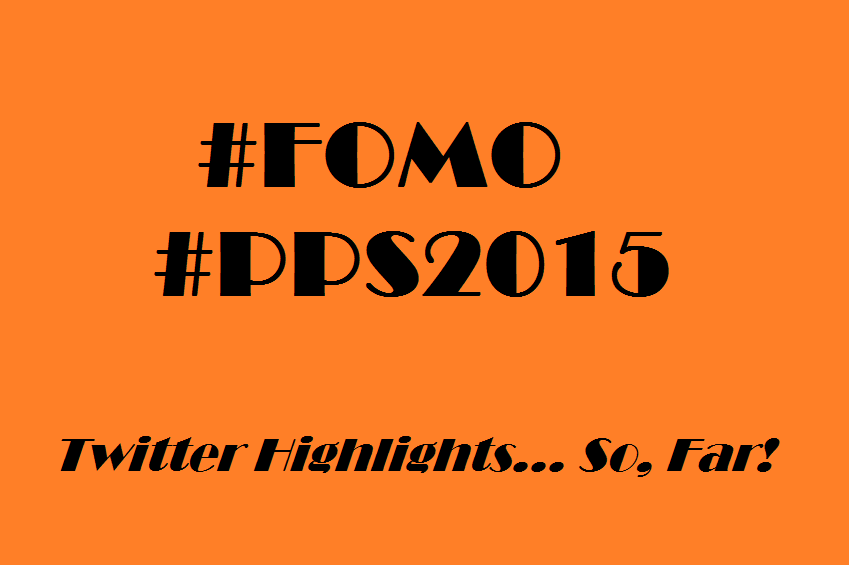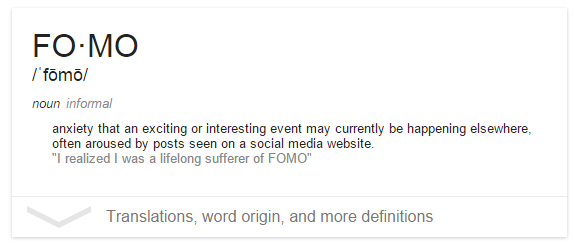 Well! While many of the UpDoc Media team is out at the American Physical Therapy Association's Private Practice Section meeting in Orlando, Florida… Yours Truly is suffering from some serious FOMO on the other side of these United States of America.
Having the worlds worst #FOMO over not being at #PPS2015.

— Brooke McIntosh, DPT (@brookemcintosh) November 12, 2015
Dr. McIntosh… I soooo feel you, right now.
And so, as we cope together on missing out, may I present…!
#FOMO #PPS2015 – The Best of Twitter, For Now!
The calm before the @garyvee storm. #PPS2015 pic.twitter.com/gVbxLfTMWA

— Gene Shirokobrod (@therapyinsiders) November 11, 2015
.@Babcock_DPT …. Get your fill, Orlando's bourbon stash took a hit last night… pic.twitter.com/kAwiPkCAuZ

— Jerry Durham (@Jerry_DurhamPT) November 11, 2015
So excited to hear @garyvee speak right now!! He rocks!! #hustle @RosenShingleCr #PPS2015 pic.twitter.com/1ptfPRCi9Q

— Tracy Sher MPT, CSCS (@PelvicGuru1) November 11, 2015
Harris Rosen, Pres/CEO Rosen Hotels & Resorts…our #PPS2015 site host…actually here to welcome us. THAT is amazing hospitality

— Jessica McKinney, PT (@jmckinneypt) November 11, 2015
Live from #orlando, it's the #pps2015 opening keynote! @WebPT is proud to support and attend this wonderful event.

— WebPT (@WebPT) November 11, 2015
.@garyvee kicking off @pps_apta #PPS2015 pic.twitter.com/t82R5ZLqcx

— Ann Wendel (@PranaPT) November 11, 2015
"We're all connected by the fact that we need our consumers attention" @garyvee #PPS2015

— Eric Uveges, SPT (@Eric_in_AmERICa) November 11, 2015
We need the consumer's attention if we want to sell anything to them. The smartphone is the key – @garyvee #PPS2015

— Dr. Barton N. Bishop (@drbartonb) November 11, 2015
"Before we can tell anyone how great we are, we need their ATTENTION." @garyvee #PPS2015

— Ann Wendel (@PranaPT) November 11, 2015
Social media is the plumbing of word of mouth in our society. #PPS2015 @garyvee

— Scott Thoma (@Scott_Thoma) November 11, 2015
Yep….. @garyvee …. JUST SAID HE LOVED ME!!! #PPS2015

— Jerry Durham (@Jerry_DurhamPT) November 11, 2015
"I F***KING Love you @Jerry_DurhamPT" - @garyvee Nice! #PPS2015

— Mike Eisenhart (@mikeeisenhart) November 11, 2015
We must be advertising on social media because that's where society lives, breathes and buys. @garyvee #PPS2015

— Jeanne Williams (@JWilliamsPT_OCS) November 11, 2015
Time is THE asset. What are you going to do about it?? #PPS2015

— Mitch Babcock, SPT (@Babcock_DPT) November 11, 2015
@garyvee #PPS2015 Video blogging is a marathon and takes work Advice: "You are a media company 1st, then provide services" …you will win

— Heidi Jannenga (@HeidiJannenga) November 11, 2015
"If you understand your business is media company FIRST, you will create a 'gateway drug' into your brand." @garyvee #PPS2015 #healthcare

— Trent Salo, PT, DPT (@trent_salo) November 11, 2015
@updocmedia is already ahead of what @garyvee is tryin to bring us up to speed on! Media company 1st. #PPS2015

— Mitch Babcock, SPT (@Babcock_DPT) November 11, 2015
Hmmmm. There's that "V" word again. Has been popping up quite a bit recently in #healthcare. No not Vaynerchuck. VALUE. #PPS2015 @garyvee

— Trent Salo, PT, DPT (@trent_salo) November 11, 2015
Using social media in business is "not about defense; it's about offense." @garyvee #PPS2015

— WebPT (@WebPT) November 11, 2015
@therapyinsiders @garyvee 6 years into a #CashPT #bizPT & still my #1 referral "source" is the internet & @google #PPS2015

— Aaron LeBauer (@LeBauerPT) November 12, 2015
'The only security you have is the ability to change' @CPDeRosa #PPS2015

— Stacy Menz (@StacyMenz) November 11, 2015
And THIS is why you go to #PPS2015 @Jerry_DurhamPT @therapyinsiders @PranaPT @SarahHaagPT @mikeeisenhart pic.twitter.com/pRAsJMVKDi

— Mitch Babcock, SPT (@Babcock_DPT) November 12, 2015