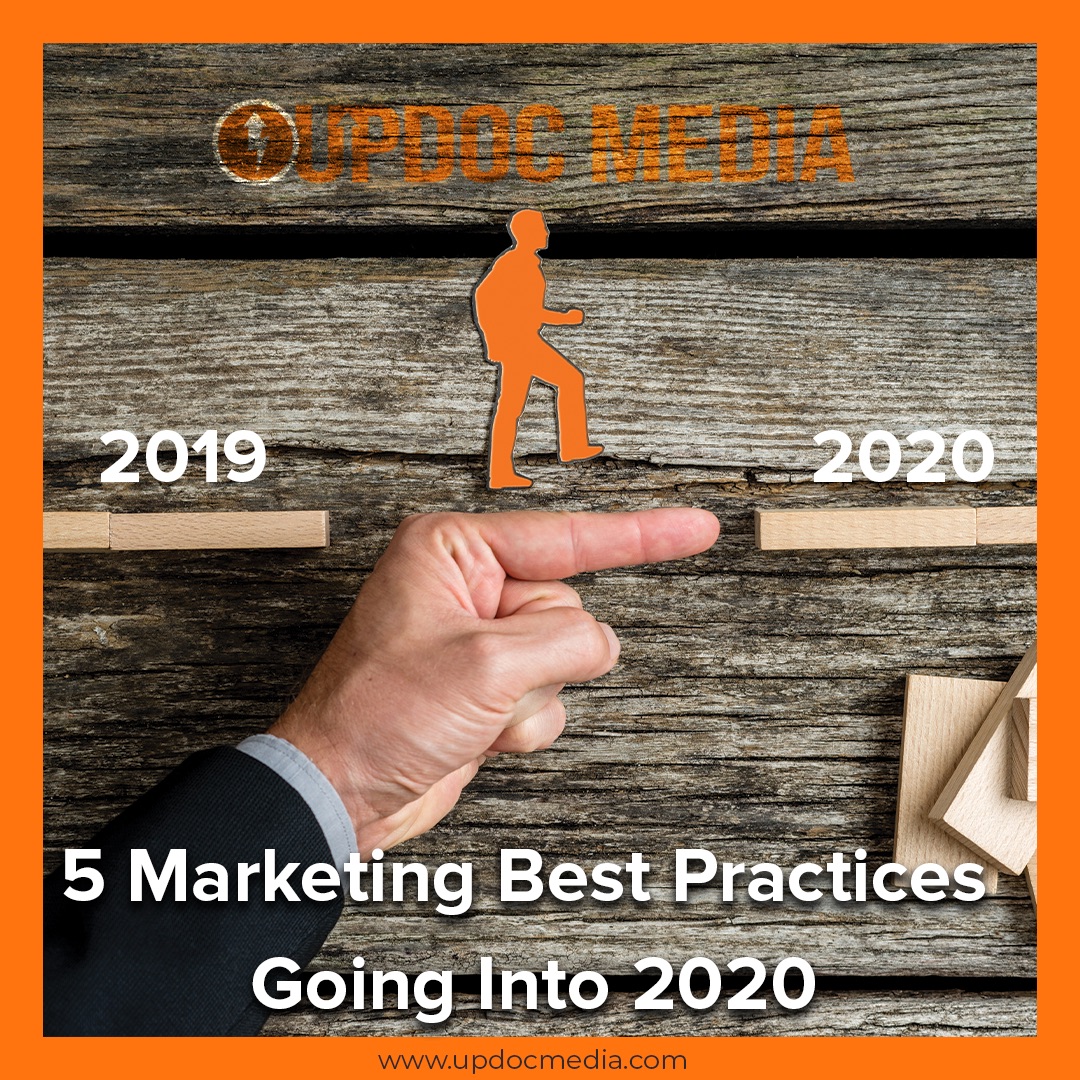 With all the updates in search algorithms, social media platforms, and consumers becoming increasingly swayed towards micro-moment shopping, there's a lot to keep up with in having a fresh and relevant marketing strategy moving in to 2020. This monster of a blog post comes following our 2019 State of Marketing Report with 5 primary categories of best practice your company should be ready for moving into 2020.
So, without further ado… let's get to it!
---
1. Asset Protection
You can't market your company with accounts you don't have control over.
A historical fun fact about UpDoc's marketing division is that we started expanding our service offering as we discovered cyber security holes in our early client accounts. First, it was retrieving control over a client website. Then, it was finding out who had access to which social media accounts. Later, it became a concern over email lists and former employees attempting to hijack patient loyalties.
Security over your company's digital footprint is now an even bigger concern than ever before. Over the years, we've heard some of the craziest hijack stories and been a part of rescue attempts for organizations big and small. So, for this category, we will share two stories on asset protection and the various accounts you should be guarding with your life.
Story A: Website Hijacked & Held Hostage
This first story is unfortunately one of the most common ways your company can lose control over digital anchor — your website. Ask yourself two key questions: (1) Do you know where your company website DOMAIN is registered and who legally owns it? (2) Do you know where your company website CONTENT resides and who legally owns that account? If your answer isn't emphatically YES and YES, then you may be at risk for the same fate as Story A.
Story A happens when a practice decided it was time for them to get started on some serious social media marketing and an updated website. Their website vendor first wanted to charge them for the website upgrade, which they wanted to source out to another agency; and, the incumbent vendor wanted to charge a release fee for the website. The practice here for Story A felt that the release fee was a ridiculous charge and that the intellectual property of the site should be theirs from the beginning. Unfortunately, they did not have full control over the content of the website, and, had long since forgotten where they registered their domain and where it was registered.
At the cost of an arm and a leg later, they finally retrieved their domain, and had to reconstruct their website from scratch as the preceding vendor ended up purging their website before the practice and new agency was able to make a copy of the site — leading to a serious drop in SEO and online visibility.
AND, for reference… that agency was not UpDoc 😉
Story B: The Trap of Content Clauses
This second story is a bit simpler and it has to do with a small fine print line. As they say, "the devil's in the details."
This story came from a near miss scenario where a practice wanted to upgrade their website. They were nearly ready to purchase from a website agency, however, they noticed a fine line they didn't see from other prospective vendors… a content clause. Content Clauses are typically put in writing to protect intellectual property and industry insider know-how. When these are inserted into service agreements, contracts, etc. — they are usually there to protect the client, not the vendor. However, this particular practice in Story B found themselves in a near miss where if they had signed up with this prospective vendor, such a content clause would've held all of their website content AND any cross purposed material (say on social media channels) also firmly within the intellectual rights of the website vendor… NOT the practice who worked so hard to create the content and copy.
In essence, the practice was welcome to keep the domain, however any written or visual material used on the website or anywhere else as developed by the agency would belong to the agency — in effect, holding brand standards and media collateral hostage… giving the practice the choice of staying with the agency for a lifetime, or, paying the price to start over.
Fortunately, this was… as mentioned… a near miss. And, Yes… UpDoc was involved with helping this Story B practice recognize the danger of said content clause.
Assets You Should Be Guarding With Your Life
So then, with these nasty stories told, what should we be doing about it? There are five general types of digital assets for your company that you should be guarding with your life. They are in no particular order:
Website control — domain registration and content management system.
Original creative content — blog, videos, podcasts, newsletters, webinars, images, multi-media, etc.
Direct contact lists — email lists, contact databases, customer registration forms, etc.
Business listing and online citations — Google My Business, Yelp, Facebook business pages, etc.
Video testimonials — raw captures, produced pieces, uploaded releases, and video hosting accounts.
These five primary assets have everything to do with marketing strong for 2020, and, also have everything to do with how your company can implement the actionables moving forward. And, yes, while #2 and #5 seem to be a bit of a duplication — original creative content is about brand promotion while video testimonials has everything to do with repopulating any loss of reputation from an adverse event driven from the consumer's perspective.
PS. If you have any questions or are unsure of how secure your assets are, please don't hesitate to reach out and let us know. We'd be happy to point you in the right direction.
2. Consumer Driven Touch Points
Being top of mind across the conversion journey wins the long game.
Healthcare consumers are becoming increasingly savvy about their choice in healthcare providers. Thanks to the wealth of consumer driven research out there, we have a strong understanding of where healthcare consumers go for their shopping and how they come to become our patients. Even when directly referred or recommended by a friend or primary care provider, prospective patients go down their list of due diligence in making sure that a practice would be the right and best fit for their needs. The research is quite clear about what elements patients consider before picking up the phone to call, or, putting in the effort to request/select an appointment via a website or patient portal mobile app. Here are the facts:
77% of patients use online reviews as their first step in choosing a new provider.
84% of consumers trust online reviews as being reliable and genuine.
91% will read them, regardless of their feelings about online reviews.
41% of consumers admit that social media would affect their choice.
43% of baby boomers are using social media for health information.
50% of general online users searching a medical condition are also searching for a specific provider.
Nearly 80% of healthcare consumers state that a health provider's trustworthiness is the most important & desired trait.
For which, 68% of consumers state they would be willing to travel further for a better healthcare experience.
Just in case it isn't abundantly clear, REVIEWS… you must have reviews. A practice must also have an easily found website if they are to be top-of-mind; and, they should view their social media channels as a snapshot in time — an on demand résumé for the patient shopping them out. There's also the consideration of personal channels to consider (to be delved into in the following section) as well as demographically directed content strategies across the various channels healthcare consumers use in their search, shopping, and purchasing behaviors.
Ultimately, it needs to be an ecosystem approach.

Just as a consummate clinician uses multiple clinical interventions in the right mixture at the right time, so must the practice in their marketing initiatives.
AS AN EXAMPLE: If your aim is to attract a demographic over 65 years of age, your practice should have an easily found digital footprint with many 5 star reviews; a website that is designed with simple browsing, aimed to take users to a schedule an appointment; and, a Facebook page that is primarily populated with patient testimonials, clinic happenings, and health tips related to common conditions of said demographic.
There are all sorts of one-off tactics available to the world of marketing which will give any given practice of practically any size a bump in business. However, these benefits rarely last longer than a couple of weeks. Sustainable, long term solutions require a more consistent approach across the many pathways healthcare consumers use to shop for their healthcare providers. There's nothing more disheartening than having a strong footprint in one channel, only learn that your prospective patients are dropping off at a critical touch point such as an appointment scheduler or an errant call button… either ones that aren't working correctly or call to actions which are hard to find.
The idea of staying consistent across the touch points isn't new per se. However, with marketing gone digital in a dominant way, there are that many more channels to consider. Therefore, the best way to implement this touch point strategy is to craft content and call to actions featuring your practice's most common and desired customer segments; laying out content personalized to their shopping behaviors and buyer psychologies… as if the shopping experience was personally crafted to their needs in that moment.
If you need a mantra on which to examine and craft these touch points, think on our acronym of D.A.C. "Discovery. Attraction. Conversion." Have a touch point curated at each stage of shopping and you are sure to have a strong foundation to build on.
Oh, and we need to talk about Voice Search… down in category #4.
Seize The Micro-Moment
Building on Consumer Driven Touch Points, the concept of "on demand" search and services has shifted into a term titled "micro-moment." They are in effect, quite similar and centralizes on the categorically shortening attention span of consumers and how they shop — primarily on mobile devices.
What this means in marketing for healthcare services is that prospective patients are increasingly quick to use search engine results, first impressions, and attention vesting (not grabbing, nor click bait) content to make their purchasing decisions. This means that we need to shift e-book tactics to online forms and quizzes, we need to shift call to actions towards more immediate response and feedback — this means messenger channels, chat bots, website hosted scheduling request forms… pretty much anything that creates an immediate and literally touch of the screen.
Additionally, your content strategy and content flow on all channels — especially your practice websites — need to quickly get browsing prospects to the desired information and call to action as seamlessly as possible. Chat widgets, browser notifications, and copious amounts of invitation to strike up messenger conversations on social as well as direct messaging platforms should be a prominent consideration going into 2020.
Ultimately, what Micro-Moments means for marketing is that the very moment a consumer has a query, we need to be in front of them in that moment — no matter the channel of choice. This will require high levels of personalization and understanding consumer sentiment and conversion journey.
3. Personalized Content Strategy
Use precisely personalized narratives to cut through content clutter.
We see ourselves in the content we consume. If we don't see ourselves, we typically move on. That's why market segmentation is so powerful and why terms like "marketing avatar" and "buyer persona" have become so popular over the last decade. Additionally… no one likes spam. And, spam comes in the form of more than just unwanted emails. They come in the form of irrelevant content on social, distracting links across a website, and inaccurate results from a search engine. In this day of content clutter, consumers have become desensitized to the onslaught of newsletters, social media postings, and search ads… that is, until you segment your audience and personalize every piece of content that you send their way.
What's the difference when you personalize? Here are some statistics for you to consider:
72% of consumers will only engage with personalized marketing messages.
Emails with personalized subject lines are 26% more likely to be opened.
Research shows 67% of customers expect personalization from a brand.
42% of consumers get annoyed by one-size-fits all content.
66% of consumers will stop buying from the brand if they they feel pestered by non-personalized content.
Additionally, 55% of consumers engage in shopping brands across

various devices simultaneously.
For more statistics on the effects of personalized marketing message, you can find them here, here, and here.
Segmentation is key.
It may seem like a tall order, crafting precisely personalized messages across email series, through a website's browsing journey, and, on social channels. However, it comes quite clear when you identify your target market segments, map out their conversion journey touch points, and craft content according to the needs they wish to have solved and serviced by your company.
In fact, one of the best ways to begin personalizing content is by featuring representatives of your key avatars and/or target market segments. If you wish to attract a younger demographic interested in fitness and wellness, you need to feature these customers across your digital footprint. They should be prominently positioned in your social channels, on your website, and have a dominant presence across your company's online reviews. If you wish to attract a pediatric population, you need to address the guardian and family decision makers who are responsible for the well being and healthcare of their kiddos.
And, if you really want to drive it home on personalization — you've got to use video.
Videos Invoke A Stronger Consumer Response
Here are some more stats: A positive experience with a video ad increases a consumer's purchase probabilities by 97%. Over a third of online activity is spent watching video with nearly 90% of users watching videos online, overall. Additionally, users retain 95% of a message's sentiment when they watch it in a video, compared to 10% when reading it in text. A large majority (over 70%) of consumers prefer to learn about a product or service via video. And, consumers are more likely to watch such content on their mobile devices; the additional benefit being that they are also that much more likely to share the content if being viewed via said mobile device.
BOTTOM LINE: Personalize the copy, feature your target segments, ensure that within your content strategy you are demonstrating trustworthiness, authority, and a clear explanation of how and why your company offers the best fit (not superior) product or service. Finally, if you're interested, you can view a few examples of precisely personalized content marketing and media productions which will hopefully give you some working ideas on how you can carry out a personalized content strategy for your brand going into 2020.
4. Keep an Eye on A.I.
Artificial Intelligence isn't Skynet or the Matrix…
yet

. But, it's going to get close to it for the world of marketing.

Retailers are investing $5.9B this year in AI-based marketing and customer service solutions to improve shoppers' buying experiences. The finance industry is leading this charge in terms of adoption, nearly at 40% adoption.

The way A.I. can reshape our marketing efforts has much to do with prediction and behavioral analysis — optimizing the where, when, how, why, and what in brand engagement across direct communication channels, content strategy, personalization, product recommendation, and search advertising. As predictive capabilities improve with A.I., you can expect a surge in Voice Search, Chat Bots, and Smart Speakers — and, for the world of clinical healthcare and population health management, one can also expect cross integrations in terms of biometrics to where customer relationship and patient engagement become one in the same.

Another element that A.I. exceed as outside of data analysis is automation. Automation is already a hot topic buzzword, however, A.I. may actually soon show the capability of true machine learning automation, versus user driven parameters which require regular auditing and optimization for good results. Also, we should consider customer insights through social listening along with user behavior watching; mapping clearly laid out conversion journeys — this is the future we look forward to in A.I. marketing disruption and innovation.

And, particularly in the world of healthcare… one thing goes rather unchecked against the clinical outcomes we've been so conditioned as providers to obsess over; it's something that we unintentionally lose sight of in the consumer behaviors behind the clinical experiences — sentiment analysis.

Artificial Intelligence also means we need to attend to new discovery and search channels such as Smart Speakers and A.I. powered messenger bots already showing themselves in use for 2019 in various industries. All together, we have a lot of preparation to embark upon to keep up with what healthcare consumers are already engaging in and with.
Oh, and a quick note about Voice Search.
Per a Wordstream released a collection of striking statistics… among the top which warrant our attention are:
50% of all searches will be voice searches by 2020.
About 30% of all searches will be done without a screen by 2020.
By 2022, 55% of households will own a smart speaker.
5. Retention Raises Revenue.
Customer retention will not just be an exercise of course of care completions, it'll be a fight for brand loyalty across multiple disciplines and service lines.
Patient retention isn't exactly revolutionary for rehab therapy and healthcare at large. Still, it is a best practice item that is largely under appreciated and under attended. The truth is, in healthcare we are losing out on revenue due to loss of customer lifetime value, loss of customer loyalty, and loss of long term value contributions when it comes to population health, risk management, and utilization review.
Here are some facts to consider:
Customer retention is measurably more effective at driving revenue than most other activities.
Customer acquisition is typically the 2nd most effective activity at driving revenue.
Rarely do customers leave you for a competitor.
Nearly 70% of customer retention failure occurs because the customer doesn't not feel cared about.
Only about 15% of customers are lost due to dissatisfaction from products and services.
Finally, the likelihood of purchase being made from an existing or former customer is upwards of 70%; the success rate for new customer acquisition tends to level off at 20%.
While there are rather impressive numbers found in industry agnostic studies, such as the touted Reichheld publication where an increase in customer retention rates by as little as 5% can boost profits by over 80% — conventional wisdom tells us that retention in the form of direct course of care revenue will not likely be so generous for healthcare companies. HOWEVER, healthcare hosts cumulative downstream revenue gains through capturing better completion rates in courses of care, repurchasing rates for follow up courses of care, and associated gains in new patient discoveries due to positive feedback, reviews, colleague-to-colleague referrals, and digital word of mouth.
When it comes to customer retention in healthcare, it's not just present day profits at stake — it's also the future marketshare.
Retention happens when patients feel remembered, genuinely cared about, and honestly cared for. In recent years, more and more patient consumers have expressed distain for when they suspect a provider, payer, or health system is making them jump through hoops to receive the care they believe they need… and, have similar negative sentiments when they feel they are being pressured to receive care they do not need.
It should come at no surprise that customer relationship management (CRM) software platforms are the first in line to address customer retention. However, the narrative, triggers, automation sequences, and segmentation in your practice's CRM need to be congruent with the brand experience across the digital footprint as well as at the brick-and-mortar clinic site. Divergence here has been shown to be detrimental to sales and retention. It also drives up the cost of new patient acquisition across the marketing ecosystem and causes a depression successful sales rates by the reception team.
Operational Considerations for Customer Retention
ACCESS.
Make it easy for patients to find you, trust you, schedule with you, arrive at your practice, and experience care. One would be unpleasantly surprised, if not terrified, to discover the common occurrence where a large chunk of prospective patients drop off from purchasing due to road blocks in discovery, scheduling, and arrival. To this, ensure that every inbound channel to your practice is regularly attended to in a way that gives a prospective patient no reason not to connect.
DELIVERY.
Make care delivery all about setting expectations, exceeding expectations, and attending deliverables in a fashion that is valuable to the patient, fulfilling to the provider, and considers long term relations with payers. After all, patients don't stay just because a payer or a clinic location. They stay because of the providers they are receiving care from and, that the care is delivered with a certain level of consistency. Given recent changes in Fall 2019 in anticipation of 2020 evolutions in rehab therapy, there have been incredible levels of new workplace pressures that are affecting providers in a way that are assuredly changing the perceived quality, experience, and delivery of care. Consistency, as always, will be key — as is establishing expectations of a new normal.
FOLLOW UP.
All too often, patients feel as if they are a victim of the care experience — unsure if they are allowed to enter or exit an examination room, not feeling confident enough to approach the reception desk a second or third time, unclear what to expect once they leave campus or if a session is even over. A bulky paper printout of discharge instructions, diagnosis, conditions, symptoms, prognosis akin to a Wikipedia page isn't helpful to patients. Yet, so many of our companies in healthcare do this any way.
No, authentic follow up with genuine sentiments happen when patients feel personally attended. Again, this goes back to personalization, perhaps A.I. driven user analytics, CRM, and further expectation management. Regardless of your chosen approaches, one thing is clear: Follow Up feels empty unless there is dialogue.
---
Honorable Mentions and Closing Thoughts
Here are a few honorable mentions to best marketing practices going into 2020.
Marketing for Talent
Having a pipeline of human resource candidates is a veritable lifeline for healthcare companies moving into 2020. Since our company founding, one of the big three business pain points remains talent acquisition and talent retention.
Retail Marketing
Healthcare is a ripe world to explore and implement retail marketing smarts. The idea of healing environments isn't new, and, remains a topic of interest amongst researchers. However, the science of evidenced based retail marketing is fairly well established — there are lots of great strategies to implement in the space of brick-and-mortar clinic sites, medical offices, rehab centers, hospitals, and other types of care centers.
Do Not Get Platform Dependent
It's critical to understand a company's market mix as much as it is important to know which champion marketing channels a company relies upon. However, 2020 brings a warning not to get tactically dependent on tools such as e-books, workshops, SEO, podcasts, blogs, or any other singular marketing channel in isolation. 2019 brought lots of changes to social media, search algorithms, and consumer behaviors. And, with any given change — everything got shuffled, ranking got mixed up, and marketers all around the world freaked out repeatedly.
Results You Should Be Getting
As you begin implementing 2020 best practices, please consider a few of the following metrics:
Google gives ranking preference to businesses that receive regular reviews and ratings. As a result, your organic traffic and direct phone calls should increase quickly, upwards of 200%.
Your direct search traffic should improve by over 20% within the first wave of reviews.
Website scheduling should increase by 30% within the first month when site content is laid out in a touch point driven fashion.
Marketing Must-Haves
When it all boils down, make sure your online business listings and citations are accurate. Have a robust retention, reputation, and review strategy. Be hyper precise and focused on marketing avatars. Update your website and keep it updated. Do not become platform dependent. Follow the customer conversion journey and identify opportune touch points. Secure your assets. And, consider A.I. solutions which are quickly approaching over the horizon.
Finally, if you're interested in seeing marketing benchmarks, you can find them here: ⟶ 2019 State of Rehab Therapy Marketing Report ⟵
If you're interested in a free discovery consult call and/or a complimentary audit, please don't hesitate to let us know!