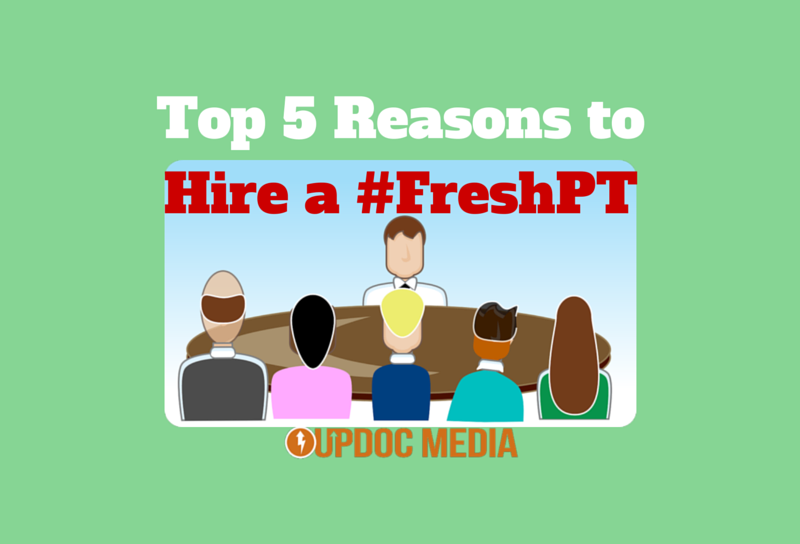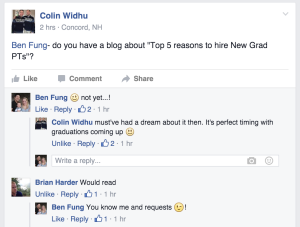 Yeah… I know, I know… the request was for "new grad PT." But, hey… I'm a social media guy & I can't suppress the temptations of hashtags. AND, you all know me well for requests. I rarely turn one down. Why? Growth Mindset: There's always more to gain & there's always more to learn. Speaking of… quick s/o to Colin Wihdu from Franklin Pierce & Brian Harder from Emory & Henry for the tag-team-request.
So…! Enough of my gabbing… let's get to…!
---
Top 5 Reasons to Hire a #FreshPT
---
1. They Are Ready To Impress
Newly graduated Fresh Physical Therapists are eager and ready to impress. They have just worked their tails off for 3 years or so & want to contribute to the blazed path of the pioneers they have come to admire. They will bend over backwards and walk over hot coals to make you proud. They want to be excellent. They yearn to be better, every passing day. All they need, is an opportunity… a chance — someone to bet on them the same way someone else, bet on you. It was my absolute pleasure to interview and hire new grads during my days as a program director. I relished the chance & dared them to surprise me. After all, everyone has to start somewhere.
Is it not a great thing to not only help the legacy… set up the next generation to strong start? Is it not a great thing, to accelerate them? Speaking of…
2. Passing The Baton
Even the most cynical of the "old guard" have an instinctual drive to pass on a legacy. It's human! And, the profession of PT is definitely a deeply human experience. I've met PTs of 40+ years who have more passion than entire classrooms of #DPTstudent(s). Their capacity of passion for the physical therapy community and purpose of the profession has only grown with time. Certainly, for some, they are frustrated with the cultural dissonance between the "old guard" and "new blood." For others, you'd think they were born millennials and some how went back to the future to gain all their wisdom and experience. In basically all cases, I've found that PTs that consistently serve as mentors bring back stories of how much further they've grown as people, as professionals, and through the experience at large, feel they've contributed to the greater good of the profession itself.
What better way to make a difference than to set forth the next generation at a stronger pace than when you, yourself, entered the profession. That, is a big reason why I personally, am so open to mentoring.
3. Invest In Them & They Will Invest In You
With a brand new license, Fresh PTs are like diamonds in the rough, oil to be drilled, gold to be mined, and treasure to be discovered. They are trove of human capital, waiting to be harnessed, powered up, and released upon the world. To this, I've found out that across the board, finding good talent is one of if not the biggest challenge in business — in private practice, corporate settings, hospitals, and just about anywhere else. Finding good people is a tough thing to do. Incentivizing them to stay has become even harder. As a business owner or manager, I can tell you this: If you invest in a new grad, if you mentor them, groom them, offer them transparency in opportunities, and set them up for success, they will return to you ten fold what you invest. They will work harder than anyone else. They will be more loyal than anyone else. They will go above, beyond, through, between, and transcend any and every conceivable barrier or pushback you've ever experienced.
Trust them to do you proud. Give them the resources and tools to succeed. Give them goals to reach. And, unleash them to knock it out of the ball park and hand you the trophy. For a fact: This is the millennial culture.
4. They Are Fired Up!
New grads are fired up and ready to change the world. Naive or not. Ready or not. Realistic or not… passion and positivity are constructively infectious. I know of many clinics, companies, and departments that could definitely use a boost in positive culture. There is no better place to get that than a #FreshPT who is more than ready to start transforming society… yesterday! While their energy may need to be channeled, while their attention may need to be redirected, while their yearning for the vastness of clinical techniques make require focus, all that raw power is at your finger tips — ready for molding, ready for honing, ready for sharpening, ready for you to make a difference in them, so that they can make a difference in the lives of so many others.
Except this time, you'll be doing it together! As colleagues, professionals, friends — side by side, transforming society one patient experience at a time.
5. Clinical Diversity
Most Fresh PTs have graduated with an impressively diverse set of clinical experiences. While such experiences may be comparatively short to established careers, they still bring significant insight, value, and business flexibility through the fresh experiences they had just months ago. A clinic which may be looking to expand services lines beyond their normal range may find the perfect match in a new grad who is not only skilled in their bread and butter; but, they also bring a bit of honey and jam to the mix. And, why not?
Having options are good. Just as a diverse financial portfolio is a good idea, so is having a diverse set of clinical capabilities within a business which provides physical therapy services. It just makes sense!
---
Some Closing Thoughts
There has been a lot of talk about mentoring millennials, the millennial economy, entitlement, expense, loans, fair wages, etc.
Really, the heart of the matter isn't any of the above. The heart of the matter is VALUE.
Just as healthcare is in a transitional state of defining value, measuring it, and paying for it — we, as a profession, are starting to recognize that the things we used to value… aren't holding the same weight they used to be. It's not a good thing, nor, is it a bad thing. It's a natural cycle of business. All together, I have this to say about it: You hear it said to never buy the first year's model of any make of car. Well, I think it's safe to say that the DPT has been around for a while now. It's only gotten better, stronger, and more refined. Since I've graduated, I've told many classes how far their program surpassed the experience of my own.
I see this only as a good thing. Every generation SHOULD be better than the next. I'm certainly not threatened by it. All I see is the opportunity to make our profession better, together. With this type of perspective, I'd say it's a difficult thing NOT to hire a newly graduated #FreshPT.
In fact I dare you. I dare you to hire one & dare you to dare them to surprise you. And, trust me, they will!
---