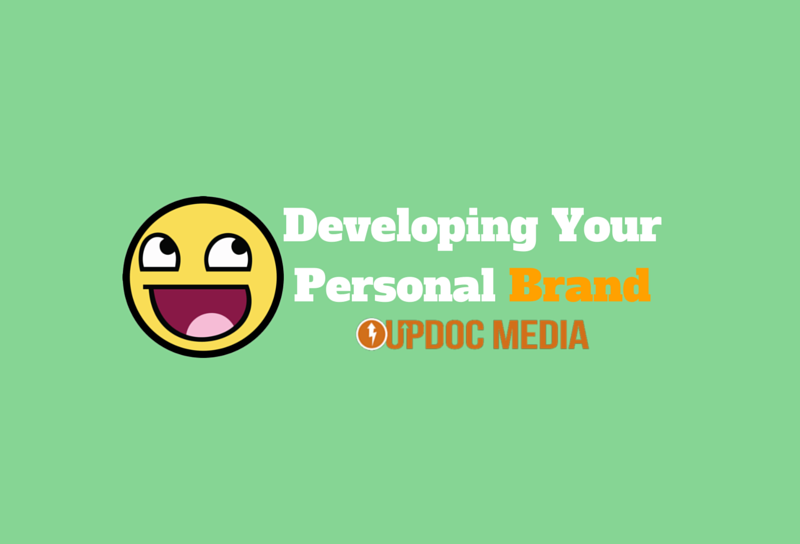 Still can't get enough of this pic from @DrBenFung Be you, do you, always stay true to your values. #branding #bizPT pic.twitter.com/Lu1DdoBMPb

— Michael Lau, SPT (@_LauPT) May 9, 2015
I'm not sure where I found this from.. I know I stumbled upon waaaaay back. And, I take no credit — except — for sharing it.
---
Personal branding was a big topic of discussion at #APTACSM. As UpDoc founder Dr. Gene Shirokobrod shared, social media doesn't make you special — social media is ENTRY LEVEL. The thing of it is, social media is probably your first impression and primary dimension of your personal brand. So, without further ado, this post is all about developing your personal brand.
---
Developing Your Personal Brand
---
To start this off right, we need to talk about what in the world a "brand" really is. I share in our Free Learn To Brand Webinar, that…
A brand is a symbolic, conceptual identity by which consumers imagine a firm's services and products with accepted (or rejected), uniform consistency.
The elements that contribute to that symbol of uniform consistency are a brand's image, identity, appearance, experience, promise, and it's positioning. If you want to learn more about it, just sign up for the eCourse, again, it's completely free!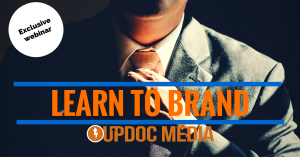 So, what does this mean for you, PERSONALLY? How do you develop it. And, more importantly, WHY?!
First, what this means is that you need to realize your brand is everything about you, particularly your presence. Brands don't mean much unless they are visible. So, anything that is visible or perceivable: digital, physical, social, written, published, etc… all these are part of your brand. For more of a glance on perspectives of brand visibility, you can check out my guest blog post at Strive Labs on Engaging Consumers With A Visible Brand.
So, with this in mind, we go to what is most visible now in the digital age: Social Media. Social media is the first and best avenue of developing a personal brand. Your profile pictures and bio is the first snapshot, much like a logo, to your personal brand. What image you place there communicates how you wish to be seen. Is it purely professional? Is it fun? Is it personable? Is it a mixture? Is it hobby based? And, you better believe people are seeing it! The vast majority of employers now do not only a background check; they also scour social media to make sure that an applicant represents themselves in a way consistent and congruent with their company's values. As we move beyond appearances, we move into personalities. Just in case you want to read more about brand appearance, you can check out this old post "What's Your Brand Appearance?"
With an established image, personal branding moves into relatable personalities. This is a double edged sword and includes not only the people you relate with but HOW you relate with them. Are you easy to talk to? Are you open to criticism? Are the people you associate with (or are associated with you) known for being nice, genuine, approachable, kind, and generous? Or, are they known to be a bit more negative in terms of personality traits, tone of voice, and how they carry themselves? Misery loves company; but, great minds think alike. Surround yourself with great minds and great people — this will elevate your personal brand simply by being present and visibly associated with them.
It is also important to see that your experiences contribute to your personal brand. If you have diverse experiences, you are seen as versatile. If you have focused experiences, you are seen as specialized. If you have a track record of working for companies for 5 years or greater at a time, you are seen as organizationally loyal. What contributes even more to your personal brand are your personal experiences. If you have traveled to interesting places in the world, if you have other hobbies than work, play music, dance, are an athlete, etc. All these help flesh out a much more colorful and attractive brand.
Finally, good brands have a wow moment, an x-factor, a hook… good brands know how to stand out. This is a big deal in personal branding, especially if you are about to graduate and join the workforce. There are several ways to stand out in positive ways. You can position yourself to be known as a collaborator or as a positive voice. You can also be a champion; advocates are always welcome. Also, there's the method of being controversial. It's been said, "There is no bad press." This definitely holds true so long as you know how to redirect controversial atmospheres into constructive dialogues.
Above all, CONSISTENCY is key in any type of branding, particularly that of personal branding.
Without consistency, you have no brand. What you have, is a disorganized image and fractured identity. Be sure that if you are always professional, keep that way. If you are more personal and fun, stay true to that self. If you are completely goofy or tragically spartan — be you. Of course, there are ways to change the mold and rebrand. But, that's for another post 😉
Some Closing Thoughts
If you haven't started developing out your personal brand, it's a good time to do it. The job market is only getting that much more digital. Get on social media. Follow people. Engage them. Join communities. Conversate. Listen. And, keep a pulse on where discussions, thoughts, whispers, and ruminations are heading. Bravely ask about things you don't know. Humbly answer the questions you see. Make sure your image matches the way you identify. Make sure your position matches your appearance. And, make sure the way people experience you matches the promise of your personal brand.