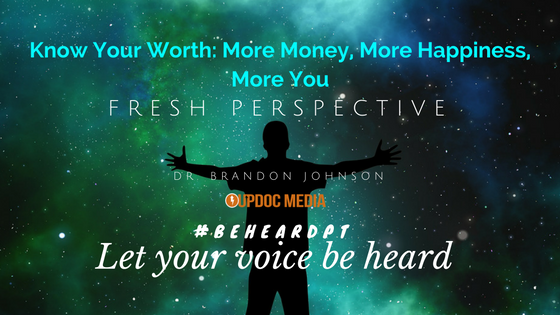 As you probably know, the accelerated physical therapy career path is a passion of mine… call it, even a pet peeve, in so far that I can not STAND IT when I hear about low-balled salaries, burnt out new grads, or people who dare and say, "You can't." or "You don't have enough experience."
When I get word of those things, I get all fired up and create things like: the #PTJobMarketPulse database, the 2016 DPT Talent Acquisition Report, and the 2016 Private Practice Human Resource Report. Why? Because, it happened to me 1st. When I got out of school, I unknowingly accepted a low-ball-deal and found out three years later I was getting paid less than a PTA. I never wanted ANYONE else to ever experience that again.
Well, I am please to share that the passion continues to pay its dividends. Today's Fresh Perspectives comes from a Fresh PT who has once again proven you CAN choose your own career path.
---
Know Your Worth: More Money, More Happiness, More You
Be Your Own Boss!
Ok, let me clarify.  People will tell you it's not about the money: "That's not why we become PT's", or "I hope that's not why you became a PT".  No!  This kind of commentary is destructive.  You are the only person that can answer that question and many people who are WINNING don't want you to know that you can make as much money as you allow yourself to, and be happy doing it!
We get paid to do what we do, right?  Why not invite the possibility to get paid as much as possible AND love what you do?
Know Yourself
Do you want a great job?… instead how 'bout a great career?… How 'bout neither?  No, I'm not talking about unemployment; I'm talking about lifestyle.
How do you do this?  Simple:  you must truly know yourself.  If you do, great…capitalize on it.  If you're unsure of what you want and how to plug yourself into the PT community as a professional there's a cool test called the Kolbe A index that hones in on strengths, and only strengths; more specifically it ranks your innate qualities that you cannot change.  There are plenty of other ways that you can gain this wisdom of self, but I highly recommend checking this out http://www.kolbe.com.
The point here is this: when you unleash your true strengths, there is energy there.  With that energy comes enthusiasm, passion, productivity, and as they say: the penny will follow.  If you listen to your innate wisdom and steer yourself right, your career will morph into a lifestyle that you get paid to lead.
Reach Out
Ok.  So you've graduated, passed the NPTE, you have a good sense of what you want, and now it's go time.  What do you do?  It's simple: reach out to a consultant or mentor who understands the current PT market.  I did.
I reached out to Dr. Ben Fung and asked him to link me his DPT Career Primer. The videos gave me the insight I needed to feel VERY confident about my position as a new grad.
Someone once told me good luck is when preparation meets opportunity. Whether it's Dr. Fung or another consultant I can't stress this enough: reach out to an expert BEFORE you start negotiations.
Several Options
As a new DPT the world truly is yours to define.  Not only are there several different fields, such as ortho, neuro, sports, movement impairment, peds, geri, hospital, home health, SNF, etc., there are different ways to set yourself up.
Firstly, do you want to work for yourself or work for someone else?  Yes, you can be 100% independent right out of school.
However, if you're like most new grads looking for opportunities you're probably going to look at working for another company.  Here's what I found out about that…
Culture fit first

Have a conversation about culture fit. Literally ask about it.  What is the company philosophy?  If something is missing or feels off, move on.

Incentives, incentives, incentives

A… LOT of PT companies are using the hourly pay model and this blows me away.
The two reasons I've found that this model is still in place are these:

They don't know any better.
They know better and want you to grind out more patients and more patients and more patients without increased pay, therefore the company makes more and you make the same (unless overtime but that's a different conversation)!

If you take a job and you're getting paid hourly you're already behind. Why? Because the future of PT is happening now and the model is incentives, technology, and automation.  Incentive pay in the most basic sense means this:  you get paid more for more productivity, and paid less for less productivity.  There are several different ways to write this up on the chalkboard, but the point is to find a system that works for you and your employer because incentive pay systems are designed to maximize opportunity for BOTH employer and employee!

Ask to see their financials

Seriously, don't be afraid to ask. If you have an OK to solid understanding of income statement and balance sheet analysis, ask…you want to ensure you're signing up with winners, and winners will respect it.

Set the bar high

You will hear about offers from other PT's, and you'll get an idea of the range that's out there. There's a lot more to it than that.  Firstly, that range doesn't mean you are tied to it.  It only reflects the value of each particular scenario, and each scenario has to do with a lot of moving parts such as supply/demand, negotiation expertise, business model differentiation, market condition/segment, benefits, paid education, and obligation commitments just to name a few.
Negotiate high and respectably. Every action has a consequence. Think about the worst-case scenarios of starting off with a number that is too high vs. too low.  If it's too low they'll be jumping for joy and probably accept your bid, and you could have just learned a VERY costly lesson.  If you bid too high, they either say yes (whoo-hoo!) or …they counter, or you never hear from them again (there will be more opportunities).  However, make sure you do your homework/investigate what is actually sustainable by the company (ask your mentor), so you can come up with a solid negotiation plan.
Here are three REAL offers I found in the outpatient PT realm:

80K per year starting salary PLUS per patient commission which is estimated to total up to as much as 130K for the first year. Full time employee working Monday through Friday, 40 hours per week or more (at employee discretion), full benefits, signing bonus of $5000+.  $6000 training paid for by company.
$65 per hour. Full time 40 hour+ workweek: Monday through Friday.
$42 per hour starting. Full time employee working Monday through Thursday 25 – 40 hours per week at employee discretion, full benefits, continuing education required and paid for by company.

Let them come to you

There are a lot of opportunities in PT right now. Negotiating is an art kind of like buying a car, or even dating.  The more desperate you appear the less likely you're going to walk away with a great deal.  Be patient…if it takes a couple months to find the right fit, it's worth it…. NEVER SETTLE…EVER!
Start Your Own Company
If you want to be your own boss for real you can start your own company NOW!  There are many different ways to do this, so remember there is true benefit to PT business consultation if you are uncertain about how to make that happen.   After all, our profession needs self-starters and more cash-pay models; there are amazing people out there who will help you, including me!  If you're thinking you can't afford to hire one, I invite you to investigate, you might be surprised at what you find.
What I Did
From my Grandfather, to my father, to me: I'm a born entrepreneur.
I thrive on autonomy, creativity, and helping others succeed.  So if you're wondering which offer I accepted, the answer is none of them!
I started my own business and I've established a cash-based business model.  I've also contracted with home health agencies as an independent contractor.  My projected earnings for my first year are where I want to be, and I'm truly passionate about my lifestyle!
Many thanks to UpDoc Media for your continued leadership and guidance!
---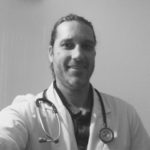 Dr. Brandon Johnson is licensed Physical Therapist, wellness lifestyle advocate and coach, businessman, licensed real estate broker, triathlete, pilates instructor, meditation coach, martial artist, and student of life. He holds a B.A. in Business Economics from UCSB and a Doctorate of Physical Therapy from California State University Northridge. After surviving the economic crisis of 2007 – 2010, and witness to those affected by loss and trauma, he chose to dedicate his life to helping others. "I believe everyone has the capacity to live an abundant life filled with joy, passion, love, and connectedness which can be fostered from our innate sense of intuition and presence of mind". Brandon continues to be inspired by his travels and has a passion for the implementation of meditation as a fundamental of wellness living. He is blessed with a loving family including two brothers who continue to make him laugh and believes that mom's have superpowers.
You can additionally find Dr. Johnson at:
www.physicaldoc.com
www.atlasPTnow.com