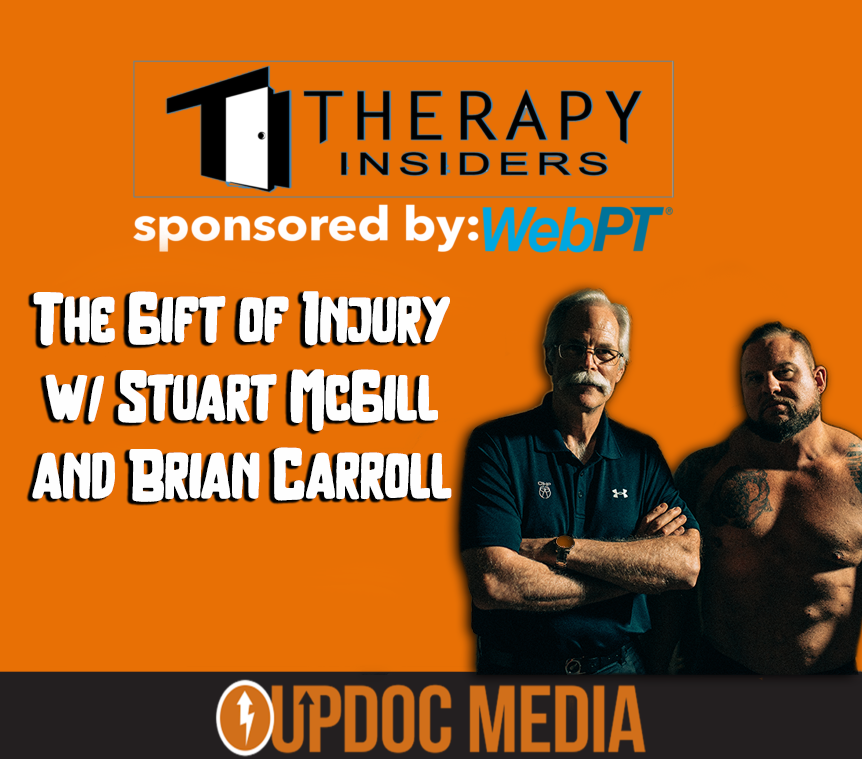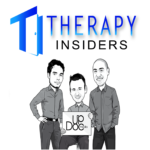 What is the relationship really like between someone in pain and the clinician that helps them?
As with any relationship, it takes time to find the right one. Sometimes.
In the case of Brian Carroll, it took almost stepping away from his career and passion of powerlifting to finally find the right clinician to help him.
The result? A story that goes from near despair to path of happiness.
In the end, it was a gift of injury that brought Stuart McGill and Brian Carroll together and ultimately changed both their lives. For the better.
On this episode of Therapy Insiders Podcast from UpDoc Media, we delve into Brian's story. We also explore what it means to go from high functioning athlete to incapacitated because of injury. Then we finish out on the process of writing The Gift of Injury and why it was conceptualized.
Happy listening!
About Stuart McGill from www.backfitpro.com
Dr. Stuart M. McGill is a professor emeritus, University of Waterloo, where he was a professor for 32 years. His laboratory and experimental research clinic investigated issues related to the causal mechanisms of back pain, how to rehabilitate back-pained people and enhance both injury resilience and performance. This produced over 240 peer-reviewed scientific journal papers, several textbooks, and many international awards. He mentored over 40 graduate students during this scientific journey.
During this time he taught thousands of clinicians and practitioners in professional development and continuing education courses around the world.
He continues as the Chief Scientific Officer for Backfitpro Inc. His advice is often sought by governments, corporations, legal experts, medical groups and elite athletes and teams from around the world. Difficult back cases are regularly referred to him for consultation. Any product associated with this website has been tested in Dr. McGill's laboratory.
About Brian Carroll from http://www.powerrackstrength.com
Brian is world class powerlifter with over a decade of elite class lifting under his belt. Coming back from a devastating back injury in 2012 that broke multiple bones and that most experts said he would never recover from, he has returned to the pinnacle of world class lifting (while 100% pain and symptom free) and is now dedicated to helping others avoid the same mistakes that he made in the past through private and group coaching.
Brian's impressive recovery has given him the opportunity to teach and deliver talks to physical therapists, chiropractors, medical doctors, professional strength & conditioning coaches and experts from all facets of sport, on how to avoid injury, while building anti-fragile strength and resilience in athletes.
A competitive powerlifter since 1999, Brian Carroll is one of the most accomplished lifters in the history of the sport. Having lifted at the elite world-class level since 2005, Brian has well over a decade of world class lifting experience. He has totaled more than ten times his bodyweight in three different classes, and both bench pressed and deadlifted over 800 pounds in two different classes. In his career, he's totaled 2500 over 20 times in 2 different weight classes.
Since 2005, even during his years of being injured, Brian has not slipped out of the top two in the American rankings in both the squat and total, and he's been ranked number one in both categories, multiple times at 220, 242, and 275 pounds. With over 50 official competition squats over 1000, spread over three different weight classes, he's indisputably one of the best lifters and in particular – squatters of all time. Most recently, post-recovery, he lifted a 2610 pound total at the 2015 Arnold Sports Festival, claiming the 242 open and overall titles, a 2651 total and overall win at the 2016 US Open, as well at the 2017 Arnold Sports festival, claiming, yet again, the 242 open and over title.(added the last 2 to keep in most recent)
Brian is also an accomplished author, having written the best-selling strength training book 10/20/Life and runs the website PowerRackStrength.com where he shares the articles and training logs of has a host of athletes of all domains who utilize his 10/20/Life methodology. His personal articles have been published in multiple magazine publications, including Men's Health, Power, Powerlifting USA, Ironman, Muscle & Fitness, and Flex, as well as Medical Journals such Journal of Body work and Movement therapies.
Career Highlights:
Holds, or has held, multiple world, national, and state records in the 220, 242, and 275 pound weight classes.
One of few lifters to attain a professional powerlifting total in three different weight classes.
One of even fewer lifters to be ranked in the top ten in three different weight classes at the same time.
Ranked second in the world in the 275 pound class with a total of 2730 and a historic 1185 squat—a then-world-record that, although since broken, most still consider to be the true record due to depth issues.
220 Class:
1030 squat, 633 bench, 755 deadlift
2375 TOTAL (10th best of all time).
242 Class:
1102 squat, 788 bench, 780 deadlift
2651 TOTAL (2nd best of all time).
275 Class:
1185 squat, 825 bench, 800 deadlift
2730 TOTAL (3rd best of all time).