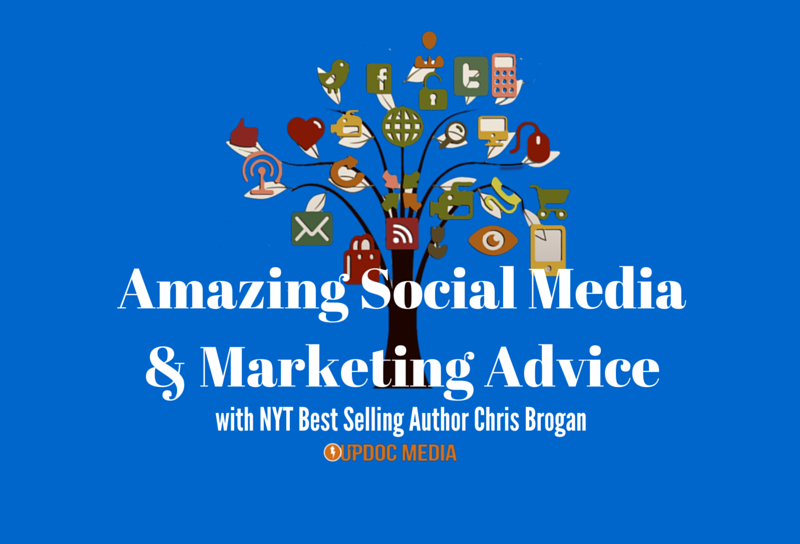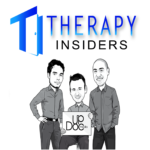 Is your marketing strategy future proof? How about at, at the very least, up to date?
Is your business using the latest social media and digital marketing strategies? I know, I'm throwing a lot of questions at you. Don't get defensive, it's for your own good. I promise.
As I mention in this podcast episode, I have a goal to bring in the best ideas into physical therapy and healthcare business from OTHER fields. We've had some incredible authors on such as Daniel Pink, Lee Cockerell, Kelly Starrett. As well as renowned social media experts such as Ahna Hendrix and Neil Patel. I think its important to infuse successful ideas and processes from other industries to further our own.
That's why I'm so excited for this episode.
On this episode of Therapy Insiders podcast, I'm joined by NYT best selling author and social media expert (see: guru) Chris Brogan. It turned out to be an incredibly lean, pretty much 100% actionable advice episode on social media, marketing, business and customer experience. If you have any interest in growing your business through digital marketing and social media, you definitely want to listen to this episode. Then go buy a few of Chris's books.
Therapy Insiders Podcast is proud to be sponsored by:
Therapy Insiders is sponsored by WebPT: The ultimate EMR for physical therapists. Not only does WebPT produce incredible EMR software, they also produce awesome content. Don't believe me? Check out http://webpt.com/ptbilling for an upcoming webinar on top 5 billing secrets that payers don't want you to know!!!Don't miss out. Register now to attend this month's special webinar on Thursday, May 19, 2016, at 10:00 AM PDT / 1:00 PM EDT. Can't make the live event? Register anyway to receive the recording and handout. Want a free demo? Of course you do! Give them a call at 866-221-1870!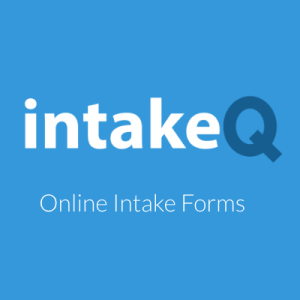 Therapy Insiders is also sponsored by IntakeQ, creating a digital intake experience. Do you want to improve the patient experience before they even walk into your clinic? Of course you do! IntakeQ allows you to create digital intake forms that are completely customizable and HIPAA compliant. Check it out for a free 2 week trial and 50% off your first month for Therapy Insiders listeners!
About Chris from http://chrisbrogan.com/about-2/
Chris Brogan is CEO of Owner Media Group , providing business systems for personal leadership. He is also a highly sought after professional speaker and the New York Times bestselling author of eight books and counting. He's working on a new book right now about what you can learn about business from video games.
Chris has spoken for or consulted with the biggest brands you know, including Disney, Coke, Google, GM, Microsoft, Coldwell Banker, Titleist, Scotts, Humana Health, Cisco, Sony USA, and many more. He's appeared on the Dr. Phil Show, interviewed Richard Branson for a cover story for Success magazine, and once even presented to a Princess. People like Paulo Coelho, Harvey Mackay, and Steven Pressfield enjoy sharing their projects and best ideas with Chris, because they know he'll share them with you. Tony Robbins had Chris on his Internet Money Masters series. Forbes listed Chris as one of the Must Follow Marketing Minds of 2014, plus listed his website as one of the 100 best websites for entrepreneurs. Statsocial rated Chris the #3 power influencer online.
Most importantly, Chris provides education and tools to help you make your life and your business thrive, by teaching you which actions will get you what you want. Through books, speeches, courses, and workshops, Chris is dedicated to helping you grow your capabilities and connections and to getting you to that next level of success, no matter where you are in the process right now. Chris also offers limited personal coaching, and offers limited consulting to businesses.
Chris lives in northern Massachusetts. His better half is Jacqueline Carly. Between the two of them, they have three kids, and love to explore many challenging and exciting hobbies and pastimes.
Affiliations and Disclosures
Chris is CEO of Owner Media Group, Inc.
Chris answers his own emails and operates all his own social media presence accounts.
Chris is listed non-exclusively with several speaker's bureaus, plus also books speeches directly through Ron Hood via our contact form.
Chris likes the protein shakes and some other products from Visalus Sciences, Inc.
Chris promotes and sells various 3rd party products and services via affiliate marketing links. These change frequently. Presume that most links here have an affiliate relationship attached, but also understand that if Chris promotes it, he uses and believes in the product or service.
Chris's favorite charities are (in no order) Skip1, Invisible People, Kid Gigawatt.
If you have any questions about anything Chris sells or promotes or any other potential affiliations, please contact Chris via his contact form.
Personal Note
Biographies are really weird things. About pages. All that. You basically have to primp yourself up and act all pompous and important and make sure people know why you're worth it. I'm a really approachable and nice-seeming guy. Never hesitate to introduce yourself to me when you see me out and about, okay? I'm nice. Promise.