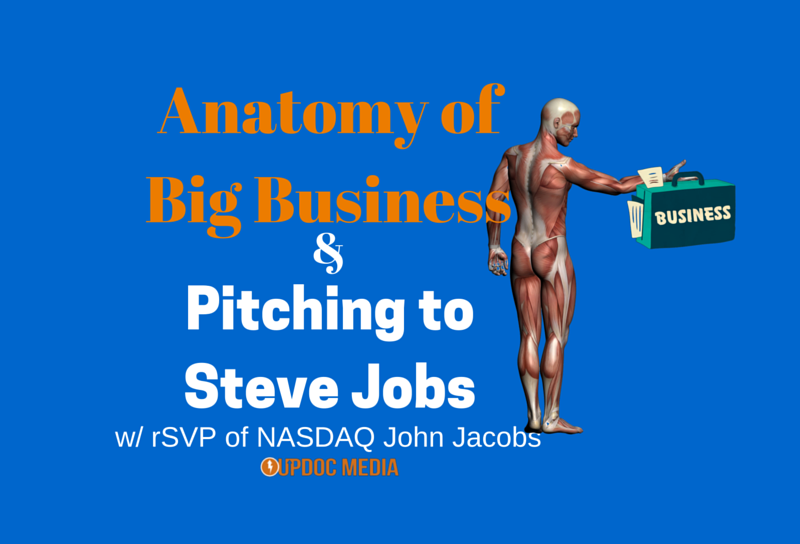 If Steve Jobs was sitting across from you at a table and it's your job to sell him, what would you say?
"I was not going to present to Steve Jobs on a Dell laptop"
"Anybody can trade your stocks, you need to create extra value"
Learn about how the stock market works, the anatomy of big business and what it was like to pitch to Steve Jobs from retired NASDAQ SVP John Jacobs!
Therapy Insiders is proud to be sponsored by Ascend Business Summit!
We at UpDoc Media and Therapy Insiders podcasts are big fans of business. We live it, learn and teach it. One thing all business has in common, is people and relationships. One of the best way to grow relationships and meet new, like-minded people is at business conferences. One of our favorites is Ascend Business Summit. This year our very own Dr. Gene Shirokobrod and Dr. Ben Fung will be presenting!! Don't miss an incredible networking and educational opportunity that is Ascend Business Summit. Oh, as a bonus for being an awesome Therapy Insiders listener, make sure to enter code "Therapyinsiders" at check out for $100 each ticket! Get your tickets now!! See you in Texas on September 9th and 10th.
About John Jacobs from LinkedIn
As a C-Suite executive and the former Chief Marketing Officer of NASDAQ OMX (an S&P 500 company), I bring more than 30 years of business success and expertise in working with institutional investors, IPOs, and top public companies around the world. I served as an entrepreneur within NASDAQ by relentlessly pursuing business innovation, establishing and building winning business units, and managing revenue growth through the challenges brought about by rapid expansion. I excel at successfully navigating crisis situations by preserving long-term business relationships, maintaining hard-won brand identities, and working with the media to reach a favorable outcome. Beyond expertise, I have a standout ability to always find a way to win, regardless of the circumstances-a key component to consistently drive transformation and business growth.
SKILLS AND EXPERTISE
Marketing Leadership, Business Development, Strategic Planning, Branding & Identity, Change Management, Market Expansion, Product Launches, Crisis Management, Turnarounds & Transformations, Key Account Management, Exchange Traded Funds (ETFs), Initial Public Offerings (IPOs), Indexing & Data Business, Mergers & Acquisitions, Partnerships & Alliances, Advertising Campaigns, Business Analysis, Process Improvement, Negotiation & Closing, Oracle On Demand CRM, International Operations, Vendor Management, Agency Management, Cross-Functional Teams, Mentoring & Teambuilding, Customer Retention, Corporate Communications, Reputation Management, PR & Media Relations, Training Programs, Speaking & Presentations
Experience
 – Present (10 months)
 –  (1 year 1 month)New York, NY
• Serve as an executive advisor and principal consultant to NASDAQ's CEO, President, and the Executive Vice President of Global Information Services (GIS).
• Head a project to review potential opportunities for the development of index and data business with JPX. JPX is the largest and most comprehensive securities market in Japan, a result of the unification of the Tokyo Stock Exchange, the Osaka Stock Exchange, and a pending merger with the Tokyo Commodities Exchange.
• Review business opportunities for index development with BIVA, a startup competitor in Mexico's exchange market and competitor with Bolsa Mexicana de Valores (BMV) and the Mexican Derivatives Exchange (MexDer).
• Mentor and advise NASDAQ's new Executive Vice President of Global Information Services (GIS), the business unit I created and formerly ran. In addition, mentor and counsel the new Vice President and Head of Exchange Traded Product (ETP) listings. Facilitate introductions with key industry executives and support product and business development processes.
• Participate in a NASDAQ working group supporting Winklevoss Capital in the launch of a NASDAQ listed Bitcoin market and Bitcoin ETF.
 –  (2 years)New York, NY
• Guided the global development, marketing, and launch of index and data products. Reported directly to the CEO, while managing a global team of approximately 120 direct reports, 65 indirect reports.
• Delivered significant contributions to company growth during tenure that included an 89% increase in Index revenue, from $47M to $89M between 2010 and 2014; and a 23% increase in Global Data revenue, from $313M in 2010 to $384M in 2014.
• Serve a dynamic group of cross-industry clients, encompassing exchanges, private equity firms, industry organizations, exchange traded product sponsors, index and data organizations, IPOs, and listed companies.
• Expanded the NASDAQ index and data businesses into a leading choice for market participants around the world, with investors and traders from every country utilizing NASDAQ solutions on a daily basis.
 –  (10 years)New York, NY
• Responsible for leading all aspects of NASDAQ's brand as CMO, from strategy to execution, with a marketing, advertising, and branding budget of $50M.
• Created and launched marketing campaigns designed to demonstrate the breadth and depth of NASDAQ's various businesses; to showcase leadership in U.S. exchange technology following company acquisitions; and to position NASDAQ as an alternative to the New York Stock Exchange (NYSE), beyond IPO and tech firm dominance.
• Built and grew NASDAQ from a national brand in U.S. stocks to a global leader representing diversified financial services with operations on six continents and state-of-the-art solutions in index, data, listing, market technology, corporate, equity, futures, options, and fixed-income trading.
• Served in a crisis management role following technical issues during the 2012 Facebook IPO. Worked behind the scenes for 67 consecutive days, taking full responsibility for the positioning strategy, communications strategy, and execution of the situation. Preserved key business relationships, limited the migration of customers, managed media fallout, and worked in a coaching and advisory role to NASDAQ's CEO.
• Developed and executed all marketing, advertising, branding, and launch efforts as CMO of the NASDAQ Fund businesses. Coordinated with corresponding NASDAQ campaigns to fully leverage the company's reputation and maximize results.
 –  (11 years)New York, NY
• Established the Global Index Group with annual revenue growth from zero in 1999 to $110M in 2014.
• Launched the NASDAQ Fund businesses, creating one of the largest ETF fund families with products in U.S. and Europe. The NASDAQ Funds businesses were transferred to Invesco PowerShares in 2007, and exist as the core of that firm's ETF business today, one of the largest in the world.
• Traveled internationally 30% of the time, to attend onsite meetings with NASDAQ personnel and to interact with clients, prospects, and market influencers.
 –  (2 years)New York, NY
• Responsible for building the NASDAQ Global Index Group and managing all aspects of the NASDAQ brand from strategic planning to execution. Transformed NASDAQ into a leading worldwide brand and expanded the global index business to position NASDAQ as viable international competitor.
• Led six VP-level direct reports to guide numerous initiatives for marketing, advertising, branding, employee communications, corporate communications, PR, and crisis management.
• Worked closely with cross-functional support units that included resources from technology, finance, marketing, legal, government relations, and information security.
 –  (3 years)New York, NY
• Responsible for leading strategic planning for NASDAQ by building a cross-functional team from across the company to create a comprehensive Internet, global, and financial products strategy. Reported to the SVP of Worldwide Marketing and led a team of four direct reports, along with outside consultants.
• Established and led the Institutional Services Group, responsible for outreach to buy-side traders and portfolio managers. Built and managed NASDAQ's first IPO and New Business Development Team to compete directly with the New York Stock Exchange (NYSE) and the American Stock Exchange (AMEX) for IPOs and listing transfers.
• Created and launched marketing campaigns for NASDAQ Funds, promoting the NASDAQ QQQ Exchange Traded Fund (ETF), four BLDRS ETFs, and the EQQQ ETF. This effort helped position NASDAQ Funds as one of the largest and fastest growing ETF fund families during this time.
 –  (2 years)New York, NY
• Selected to run small-cap and mid-cap customer retention programs for NASDAQ listed companies, in the wake of a 1995 Forbes article that triggered regulatory investigations and the largest company crisis up to that time.
• Created and implemented a massive nationwide program and met personally with CEOs of the largest listed companies. Actively engaged with company leaders and successfully stopped customer losses to the NYSE.
• Created and implemented a series of programs, products, and services designed to support company executives as they built better public companies and best-in-class investor relations programs.
 –  (4 years)New York, NY
• Launched the company's first business development effort targeting companies to list on NASDAQ. Created programs, products, and services targeting the C-Suite of pre-IPO companies, their Investment Bankers, Legal Counsel, and Accounting Firms.
• Developed and implemented strategic and tactical plans, marketing and communications programs, and a group of highly successful "Going Public" seminars and publications.